11/22/06 – Hi, my name is Dave Freeman. I have worked at Sawbill off and on since 1994, and have met many of you during that time. I also run the non-profit organization Wilderness Classroom, which uses the Internet to teach students about some of the world's wildest places.
This fall, Amy Voytilla and I spent seven weeks kayaking around Lake Superior with the goal of teaching students about the Great Lakes and the importance of freshwater conservation. We are hosting a party at the Grand Ole Creamery in St. Paul on November 29th at 7 p.m. Everyone is welcome to attend. We will be sharing a few of the thousands of images and stories we gathered during our circumnavigation of the largest lake in the world, and hope to raise funds and support for our next project: a 3000 mile journey across South America.
The link below will take you to an Evite with more details about the party.
http://www.evite.com/app/publicUrl/a_voytilla@yahoo.com/wildernessclassroom
For those of you who live near the Twin Cities, I hope you can join us–Sawbill folks always make for a good party. If you do not live in the area, I hope you will visit our website, www.wildernessclassroom.com, to learn more about our programming!
– Dave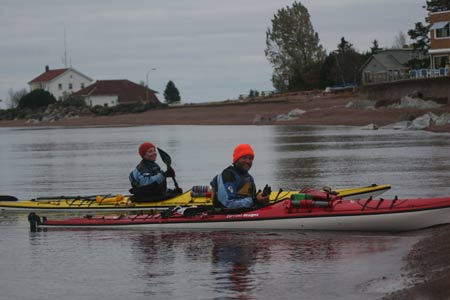 Crew member Dave Freeman and Amy Voytilla paddling the last few feet of their 1100 mile circumnavigation of Lake Superior.