4/4/07 – Just when we thought spring had arrived in full force, and our thoughts began to turn to paddling, portaging and roasting marshmallows, a freak snowstorm hit Sawbill on Tuesday and buried us in over eight feet of snow overnight!


The Sawbill store is literally buried in a mountain of snow. Resident dogs Homer, Phoebe and River have resorted to building an underground tunnel system beneath the snow to navigate from building to building. It's taken us nearly 24 hours of continuous plowing and shoveling to dig our way into the office to write this newsletter entry.


April fools! We did have a big snowstorm Tuesday, but we actually received eight inches, not eight feet. It's still an impressive accumulation for this time of year, and according to resident weather expert and record-keeper Frank Hansen, eight inches is by far the most snow Sawbill has ever received on April 4th since he's been here.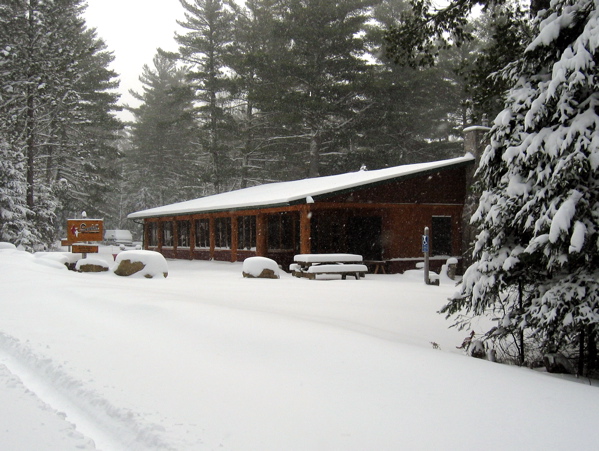 Trickery aside, this is what the Sawbill store actually looks like right now. It looks and feels more like January right now than April. We all know the old adage about Minnesota weather– if you don't like the weather, wait a minute and it'll change. Last year the ice went out on Sawbill lake on April 17th. Could we be paddling, portaging and making s'mores within two weeks? It seems pretty unlikely at this point! Only time will tell. -Ruthie