8/27/07 – Jean Larson, a poet and Sawbill customer, sent us this poem and photo after her canoe trip this summer. She has been taking trips out of Sawbill for 15 years. Thank you Jean! – Caitlin
The Moonlight Act: Luna'ha
I drove up North alone under the search-lamp moon–
silver, some say, and it was–
following me along
the cliffs of Lake Superior, pale nightlight
reassuring as I slipped the lonely
curves
–then, into the woods
away from the big lake, sliding
like oil on water over gravel, moon flashing
through the filter of forest fangs, low
mountain–Sawtooth, they say–
so I sing to the moon for reassurance, call her
Luna, Lu-na'-ha
and laugh out of a sense of love–
for Luna'ha, deep forest, momentum,
and the moonlit act
of setting up my silver
tent beneath poles of pine
beside silence…. . . ..
the lake they call Sawbill.
-Jean Larson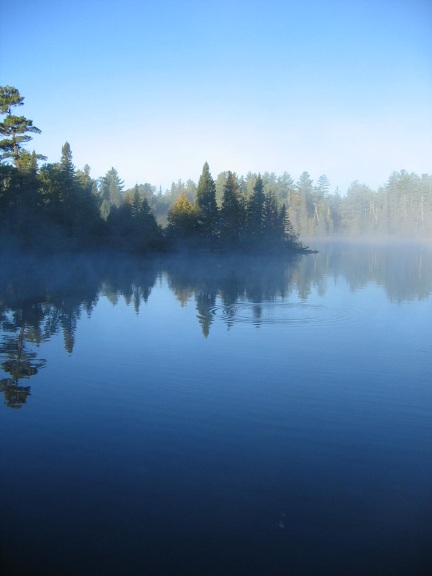 Sawbill lake in the early morning. Courtesy of Jean Larson.