4/11/08 – OK, this is getting ridiculous. We awoke this morning to another late season winter storm. 7.5 inches of snow overnight and more since I measured this morning. High winds are adding to the mid-winter feel today.
We are starting to get calls and emails about when the ice will go out. The earliest ice-out date that I can remember in the last fifty years was in 2000 when Sawbill was ice free on April 12th. Since the millennium, the ice has gone out sometime in April every year except two. Once it went out on May 1st and once on May 2nd. The latest ice out in my memory was May 24th. I can't remember the year, but it was at least twenty years ago.
Predicting ice out dates is dicey at best. I've seen thin, rotten, black ice hang in for weeks during a late season cold snap and I've seen a solid 14 inches of ice go out in a couple of days. Within the next few days we'll start a daily report on ice thickness and condition. I'm still hoping for at least a few good days of lake skiing and kite flying. – Bill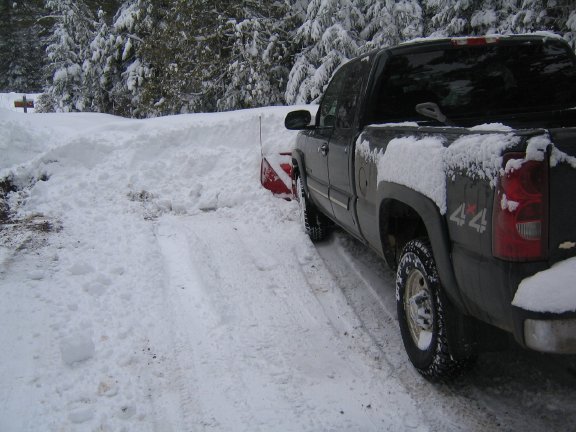 Plowing on April 11th!