8/20/09 – As a contrast to the first time travelers below, we received this nice email from one of our most experienced groups:
It's good to hear from folks entering the BWCA for the first time. It's impossible to have a bad experience – especially with support from a good outfitter. We're not sure how long we've been coming through Sawbill – perhaps 25 years – but we would wager we have about the oldest average age of any current group (we avgd 70 this trip). When I look at the pictures, we don't have that nice fresh look of Leah and Josh – we look more like escapees from a nursing home. But some things are constant, 5 a.m. fishing, fresh fish and home fries for dinner, clear lakes and peaceful days.
Over the years, we've come to expect the unexpected. Seeing a flock of sandhill cranes overhead and a large cat (we think a cougar) were special this year, not to mention the eagle flyby we had on our way out of Jack Lake. As always, we appreciate the great Sawbill service. As we introduce our grandchildren to the BWCA, we hope there will be many more seasons. – Ron Holtman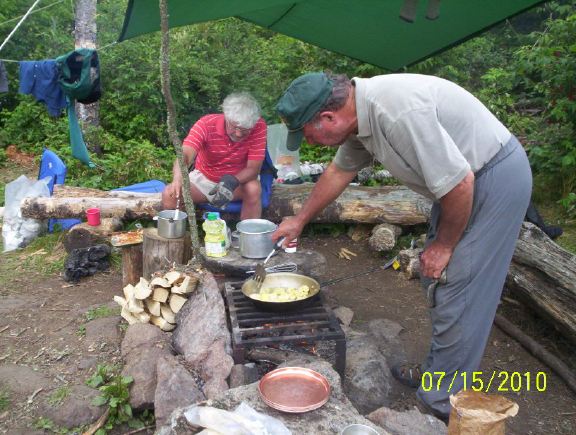 Assistant chefs Biggio and Briggs.