8/19/09 – Last week, we highlighted the canoe trip of first-time BWCA visitors Joshua and Alethea "Leah" Huyser. Josh and Leah offered to help us describe the familiar Lady Chain Route through the eyes of campers brand new to the BWCA. What follows are excerpts and photos from Josh and Leah's recent canoe trip.


Day 1 – August 10, 2009. We arrived at Sawbill Outfitters early on Day 1 with a car full of miscellaneous gear. As we unloaded our gear and began to pack up, we felt a bit lost. Although both of us had backpacked before, we were unsure how to approach the unique nature of a canoe trip. With some help from Adam at Sawbill, we soon had our gear packed and headed to Kawishiwi Lake. At the lake shore we loaded up our canoe, took a couple pictures, and headed off into the back country. As the Sawbill van backed away, we faced the wide open country ahead of us. It was incredibly beautiful. We felt both awed and a bit trepidacious. All that water made us feel like fish out of water, or, more precisely, man out of land. But we paddled on, amazed by the pristine surroundings. A brief sprinkle hit as we entered our second lake, Square Lake, but it passed quickly. Before our first portage, Josh threw in a fishing line at Square Lake and caught a small mouth bass–the first fish of our trip. We then landed and began to unpack for our first portage of 20 rods. It was a short portage, and we were a bit discombobulated as we unloaded the canoe. But we figured out a system, hiked the short distance, and shortly relaunched. The sun began to shine, we settled into a routine for portaging, and in no time, we arrived at our destination–Lake Polly. Lake Polly is a stunning alpine-like lake–clear water, small islands scattered throughout, surrounded by large pines. We chose a campsite on the northwest edge of the lake near the mouth of the Kawishiwi River. The campsite was perfect–set out on a rocky point, it was private, quiet, and serene. That night we unpacked and threw in a few fishing lines. As the sun set, we prepared for bed. We fell asleep hearing only the loons across the lake–something we would hear for the remainder of our trip.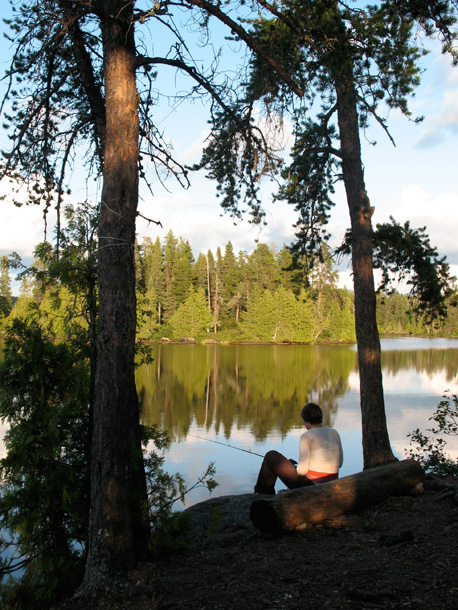 Leah wets a line on Lake Polly.

Day 2 – August 11, 2009. We woke up to a sunny morning on Lake Polly. We no longer felt out of place, but rather woke that morning feeling happy and at home. We had decided to spend two nights on Polly and started Day 2 with an early morning fishing trip. We launched the canoe, and before even leaving the bay where our campsite was located, Leah caught a northern approximately 23 inches in length. With dinner secured, we went back to the campsite to make breakfast. Our campsite was full of blueberry bushes, and we gathered blueberries to mix into our pancakes. Yum. After breakfast, we heard a splash. Just across the inlet–no more than 80 yards away, a cow moose and her yearling calf were wading into the lake. After a few minutes the moose headed back inland, and we decided to explore Polly. We spent the morning paddling around the lake, fishing, and collecting firewood. When the afternoon got hot, we went for a swim. Josh even found a good-sized cliff to jump off. The day quickly passed. After a good dinner and a nice fire, we went to bed.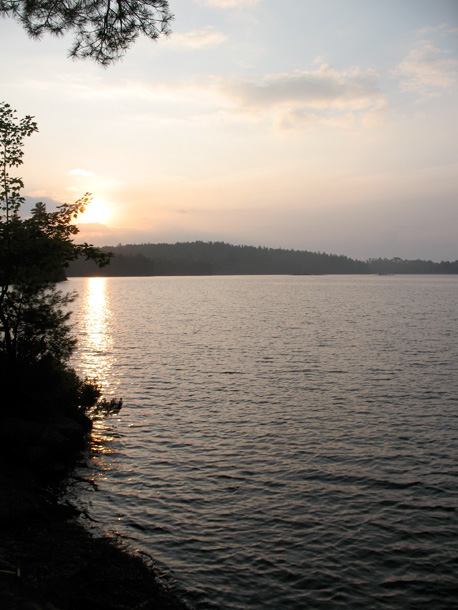 A fitting end to a gorgeous day on Lake Polly.

Day 3 – August 12, 2009. After another morning of blueberry pancakes, we launched before mid-morning on Day 3 headed for Phoebe Lake. The day was full of shorter portages and lots of paddling. It was another warm and sunny day, and when we arrived at Phoebe in late afternoon, we were tired and hot. We found an island campsite–the one we had hoped would be available. As we quickly unloaded our canoe, a bald eagle took off from a tree about 40 yards away on the island, disturbed by our landing. We then headed for a swim to cool off. After swimming, we decided to fish a little off the rocky edge of our island campsite. We both had some small fish, but then Leah hooked a big pike. It was longer than her arm! But, alas, it was too strong for her line, and got away. We again settled in, made dinner, and built a fire. As we sat by the fire at dusk, we heard a new sound. . . Wolves! First one, then many, coming from the north shore of the lake. They quieted down and we got ready for bed. Our tent had a no-see-um top, and we were able to see the stars. The stars were thick and bright, and we saw so many shooting stars as we lay there. Then, suddenly, as the moon rose, we began to hear the wolves again. We fell asleep that night listening to them.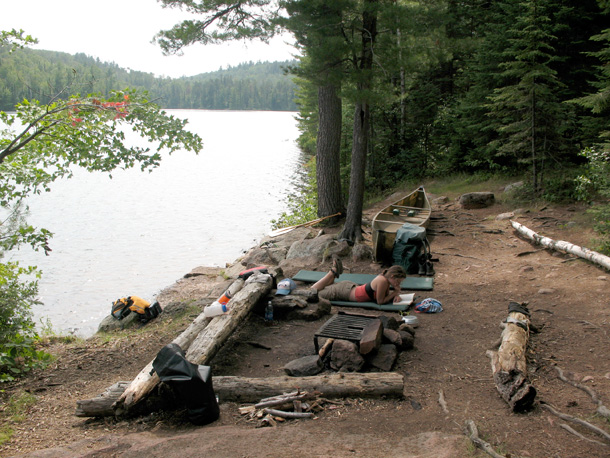 A lazy day on Phoebe Lake.

Day 4 – August 13, 2009. We woke early on Day 4, but we were groggy and tired from the previous day. We made wild raspberry pancakes as we packed up for a short but arduous trip to Beth Lake. While we knew the day would be short, it also held our longest portage of the trip–285 rods. The sun was warm, even early in the day. The day was an effort, but we got through it just fine. And when we arrived at Beth late that morning, we were amazed. The water was stunningly clean and clear and we could see deeper than we had in other lakes. Hot and tired, we chose a campsite located on a point along the north shore. The lake was quiet except for an occasional holler–the sound of other campers jumping off cliffs on the eastern shore. We were inspired, and went for several swims that day to cool off and to collect water. At dusk, we headed out in the canoe for our last evening of fishing. Josh caught several small mouth bass on live bait. On the south shore, we were joined by a beaver. It swam along side our canoe before thumping its tail and splashing away. Soon, the beaver was joined by another, both swimming in zig-zag patterns and making splashes. We were perplexed until we saw the beaver den and heard the sounds of a baby beaver coming from inside. We moved away–leaving the beaver family in peace. The sun was setting dramatically across the lake as we pulled our canoe in for the evening. That night we sat by the fire, stunned that the week had passed so quickly. While we talked about hamburgers, french fries, ice cream, and pie, we were both sad to be leaving the BW the next morning.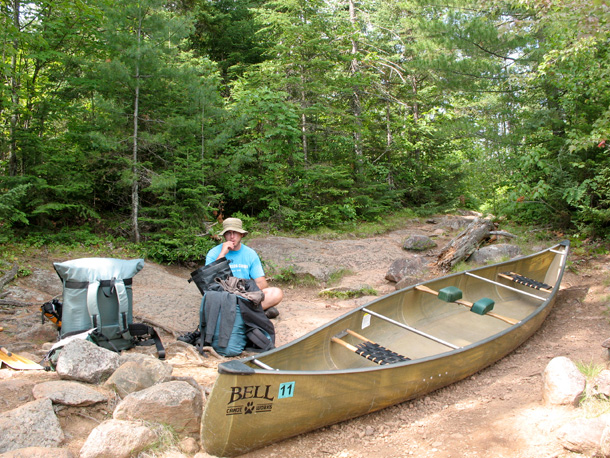 Josh celebrates his completion of the 285-rod portage with a granola bar.

Day 5 – August 14, 2009. Our last morning, we woke early and packed quickly. We had our routine down. We quickly crossed to Alton–a large and stunning lake that was glassy that morning. We reached the portage from Alton into Sawbill Lake, and began to run into other paddlers just heading out for their BW trips. We said hi, wished them a good voyage, and, I think, we were jealous they were just beginning their trips. The portage into Sawbill was quick. We paddled slowly to our exit spot, but it inevitably approached. It was still early when we loaded our gear up one last time and carried it to Sawbill Outfitters, where we were greeted by the friendly staff. After returning our gear and sharing some stories, we were soon on our way down the gravel road, headed back to town. About twenty miles later, the road suddenly turned to pavement and somehow, that seemed to mark the end of the adventure. If one looked, in the right light, at the right angle, just perhaps, one might have seen a tear in the corner of Josh's eye. Back in town, we had hamburgers for lunch–as we planned our next trip to the BW.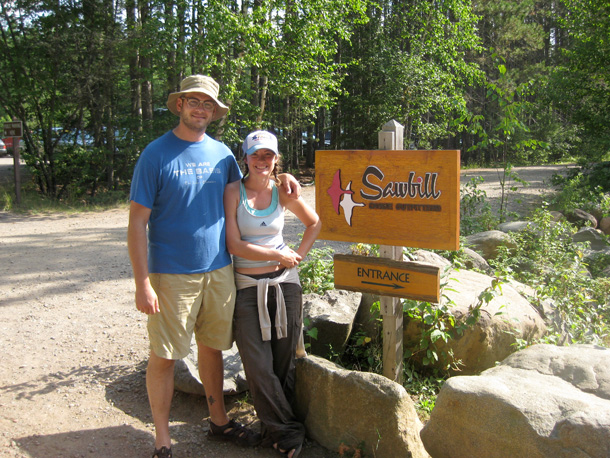 Back at Sawbill after a successful trip.
Thanks, Josh and Leah, for sharing your trip with us! We look forward to hearing many more of your BWCA stories in the years to come.