8/31/09 – My brother Jay and I found a walleye hole early one morning on Knife Lake during a recent canoe trip, our first one together in eight years. He put two on the stringer in a span of ten minutes. I had one get off the hook next to the boat just as I was about to net it. Ten minutes later Jay hooked into another one and landed it successfully. Just as he was getting it out of the net and unhooking it, I heard him say four unsettling words: Where is the stringer? My brother…probably not a multi-tasker. "I thought you had it," I said. "I did." "Well then, where did it go?"
The next few sentences that came out of our mouths shouldn't be heard in mixed company. Finally, Jay regained some composure. "There it is!" His finger directed my eyes down into eight feet of crystal clear water toward a thin white line lingering on the bottom near shore where the boat had drifted during the landing process. The fish were drifting there languidly too. He started taking off his shoes, but hesitantly. "No, I'll go," I said. I was wearing sandals and lightweight nylon clothing. He had on canvas and cotton. I knew he wasn't as canoe-nimble as I and trusted myself to make a smooth open-water exit better than he would, plus, I had to redeem myself after losing a fish next to the boat.
My sights fixed fast to the stringer below, I stood up in the bow, placed my hands on opposing gunwales, picked my feet up and pushed the canoe out from under me. I remember a cool splash and the sound of churning water. My eyes opened and found, not three feet away, a blurry vision of a stringer of walleyes. I grabbed the rope and sprang off the lake bottom toward the surface.
"I got it!" I screamed, as I exited the water. I had the stringer of fish held high above my head triumphantly. He chuckled. "Stop yelling and get back in the boat. You're going to spook rest of the fish."
I swam toward shore with the fish and Jay met me there with the canoe. I gave him the stringer. "Watch it this time." I got in the bow and turned around and looked at him. He started laughing. I started laughing. Realizing what had just happened, we couldn't help it. After sharing a sigh of relief, we fished another fifteen minutes or so until the sun peaked over the treeline and then we headed in for breakfast. The most satisfying kind.
This Boundary Waters trip with Jay was a long time coming. He brought me on my first trip, through Sawbill, almost eight years ago. For a long time I thought I owed this trip to him. But, no. Fishing stories, a view of the Milky Way, moon rises, paddling through whitecaps into headwinds, loon calls, the smell of a campfire and a pancake breakfast during blueberry season as the dew burns off the leaves around the campsite – these experiences aren't a currency to be owed. They are something greater, whether a tradition, a pastime, a job, or a way of life. Our debt is not to each other, but to the land. And we owe it to ourselves to keep coming back. – Lee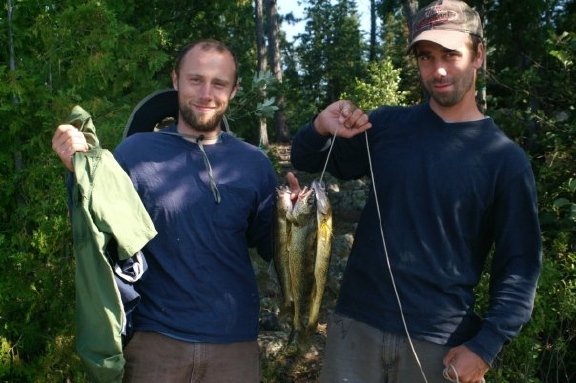 My half dry clothes in my hands after we returned to camp. A stringer between us. All smiles.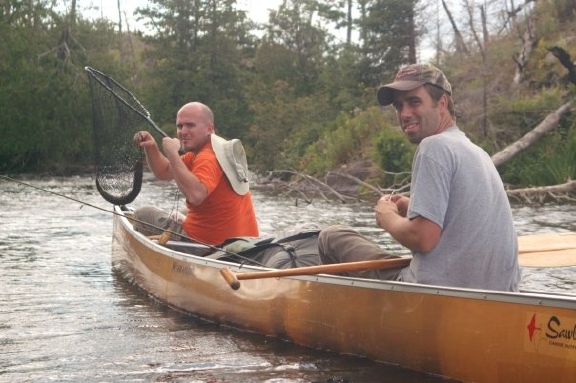 Jay's friend Wally picks up a nice pike on Kingfisher Lake.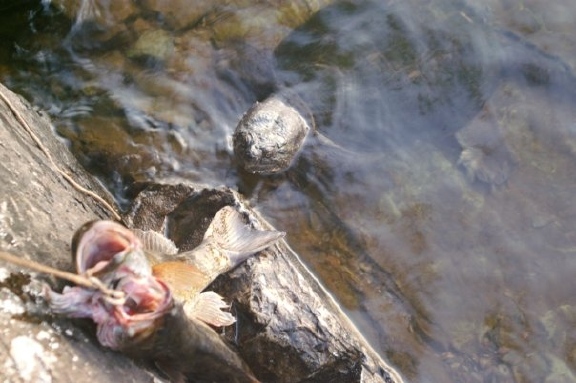 The snapping turtle that tried to steal our dinner on Hanson Lake.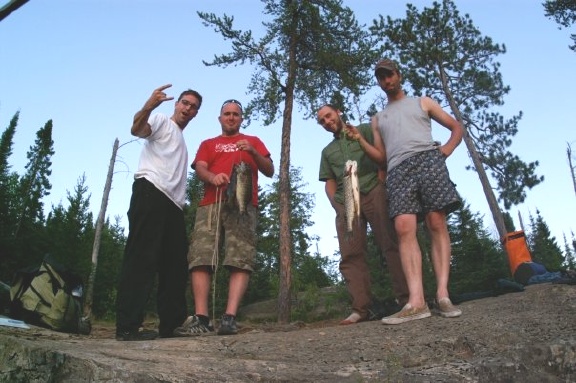 Campsite on Hanson Lake. Thanks to Levi Rinker for taking pictures.