5/13/10 – It is raining today! I'm looking out the window at hard, cold, rain pelting down and being hungrily soaked up by the parched landscape. Some would say that this is typical weather for the Minnesota fishing opener and they would be right. It is indeed welcome, even if there is a strong chance it will turn to snow overnight. Starting on Saturday the forecast is calling for sunny skies and warm temperatures.
Cindy Hansen's great-aunt, Millie Mainella, who turned 102 in January, was crowned queen of the care center's Senior Prom in Grand Marais this week. Most of Cindy's large, extended family joined in the celebration and dancing. Cook County's own community swing band entertained and a very good time was had by all.
Millie was born in Hovland, was the postmaster there for many years and was an accomplished accordionist who played for countless dances at the Hovland Town Hall. – Bill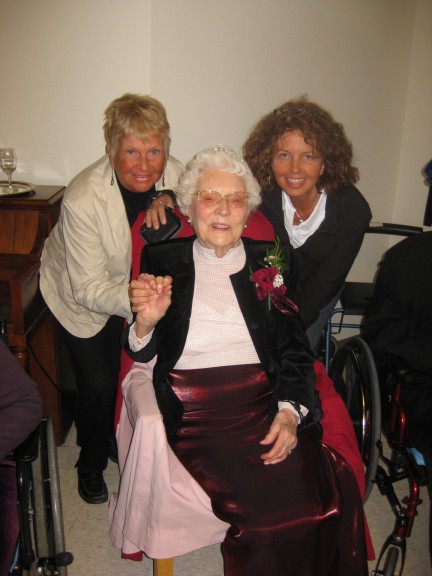 (l-r) Cindy's mom, Arline Johnson, great aunt Millie, Cindy.