4/20/11 – We measured the ice on Sawbill Lake at 22″ last night. The ice "floated up" last week. Floating up is the phenomenon that typically occurs a couple of weeks before the ice melts completely. At a certain point the ice becomes porous enough that it changes its specific density and spontaneously rises up about 12 – 18″. This happens when the edges have thawed enough to release the ice sheet.
This year, it floated up right at the end of big warm spell. Since then it has turned quite cold and snowed again, so the water around the edges has refrozen and the main ice sheet has firmed up.
Things can change very fast at this time of year, which makes predicting ice behavior very difficult. – Bill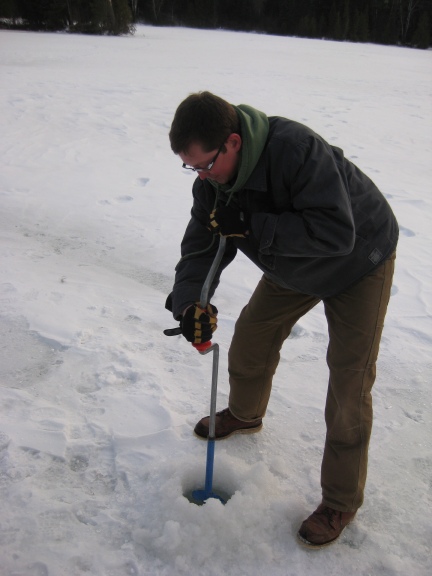 Our second crew member of the season, Luke Opel, mans the auger as we test the ice thickness on Sawbill Lake. This is Luke's second season on the Sawbill crew. He hails from Apple Valley, Minnesota.