9/15/11 – Not much news to report this morning. The fire has been largely dormant for the last two days. The information coming from the Forest Service about the fire has been particularly poor. It may be a jurisdictional problem as the fire is actually located in a different Forest Service district and county. Our local Forest Service office has been great, as usual, but even they aren't getting timely information about the fire. A new management team is taking over the fire today. They are experts that travel the country to manage large fires, so I expect that communications will improve.
All the BWCA Wilderness entry points in our area remain closed, except for Brule Lake, where you are allowed to camp on Brule Lake only. The Temperance River campground (located on the Sawbill Trail, 10 miles north of Tofte) is open, but the Sawbill Lake and Crescent Lake campgrounds are closed. They are telling us that they will be closed through this coming weekend. We will post any changes to closures here as soon as we hear about them.
We ended up with .11″ of moisture in the form of snow yesterday. We love snow, but this was particularly welcome. We are safe and sound here at Sawbill. Thanks again to everyone who has sent good thoughts or offered to help. The response has been truly overwhelming and touching. – Bill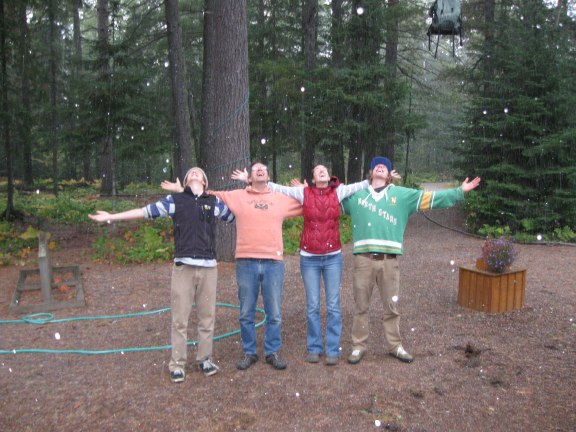 Carl Hansen, Bill Hansen, Liz Foot and Tyler Campbell are happy to see snow!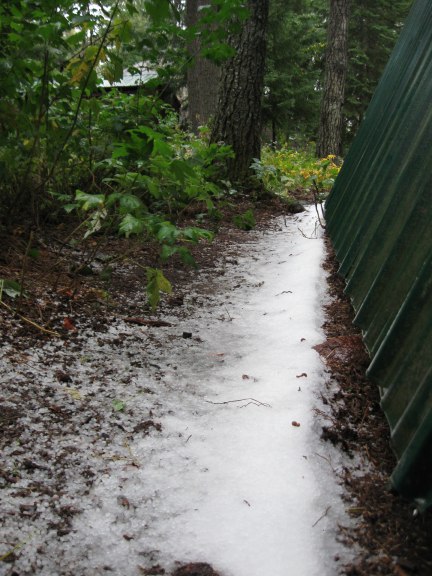 Snow collected at the base of a steep roof.