7/13/13 – The crew picture for this year has been taken! Last Friday, almost every crew member for this year gathered in front of the store to take a picture in this year's crew shirts. The shirt features a cute woodblock print of Roy and lists his loves underneath the picture. Roy also got his own shirt, although he didn't seem too overjoyed to wear it. – Britta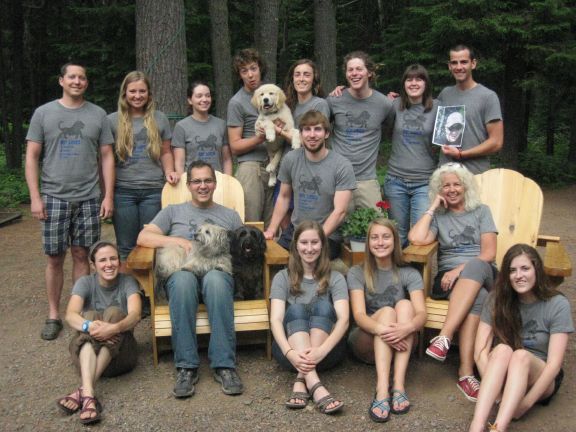 Back Row (from left to right): Luke Opel, Ana Koch, Sarah Davidson, Carl Hansen, Hank Anders Hansen, Crista Clark, Tyler Campbell, Jessica Hemmer, Joe Daniels, and the photo is Leif Gilsvik who couldn't join us as he is paddling the Mississippi. Middle Row: Nils Anderson. Front Row: Meg Simon, Bill Hansen, Phoebe Fern Hansen, Roy Wonder Hansen, Laura Hoppe, Britta Dornfeld, Cindy Hansen and Nicole Kline.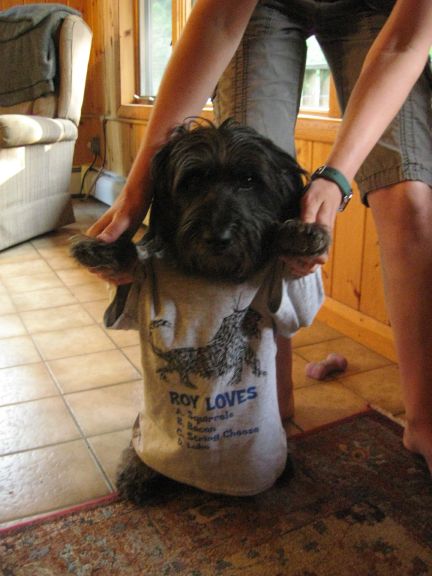 Roy unwillingly showing off his shirt–he got a biscuit afterward.