11/21/14 – Dave and Amy Freeman, our wonderful and over-qualified guides here at Sawbill, are nearing the end of their latest epic human powered journey. They have paddled and sailed from Ely, Minnesota to Washington D.C. to deliver a canoe that is a floating petition signed by people who are concerned with the environmental and economic impact of proposed mining projects near the BWCA Wilderness.
Last night, they gave a talk at the University of Delaware, where they were greeted by long-time Sawbill canoeists Jean and Richard Krohn.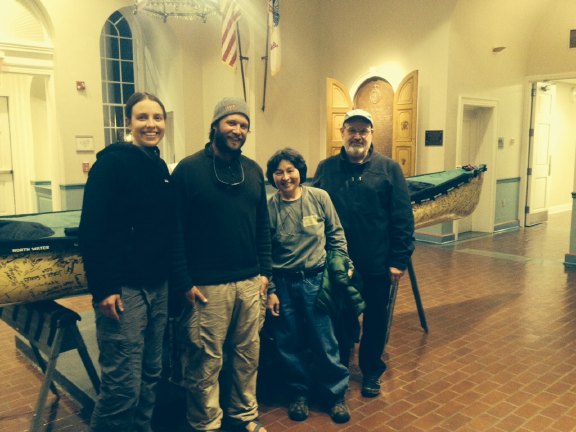 A Sawbill reunion in Delaware. (l-r) Amy Freeman, Dave Freeman, Jean Krohn, Richard Krohn. Jean is proudly wearing her Sawbill t-shirt.
Steve West, from the Duluth area, is one of the leading fishing experts in the Sawbill area. He sent along this picture from his latest vist, just a little more than a month ago.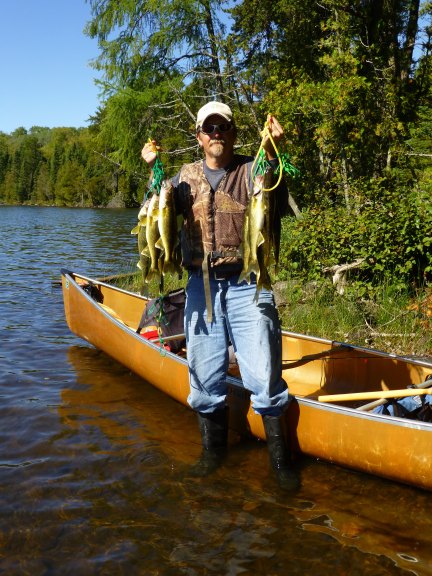 Steve is holding the catch for his entire party, so no need to call the game warden.
Here is this week's edition of the Cook County West End News from WTIP-FM, North Shore Community Radio.