1/10/15 – Longtime Sawbill paddler, Mary Bart, sent along this little note a few days ago. – Bill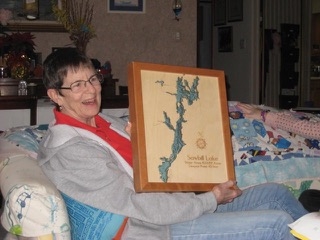 Hiya Bill,
I don't know if you had a part in this or not, but son Chris & his brothers got me this framed 3-D topographical map of Sawbill Lake for Christmas, and blew my mind away with it. Boy, is it COOL! It's got water depths, and campsites marked on it – we can see where we've been, and it's just so neat! Chris got one too (or his wife got it for him, I don't know which) of Cherokee Lake, and we've been comparing depths, sizes of the lakes, campsites we've been to etc – the very first trip we took our kids on when Chris was 9 or 10 years old was to Cherokee, so it's a special lake to him. Come to think of it, MY very first trip up there was also to Cherokee! I thought I was gonna die on the 180 portage, but one of the other adults kept assuring me that there was really a BAR at the end of the last portage and I could get a beer there. I believed him. Anyway, we are both enjoying our cool maps of lakes we love!
And I am in the preliminary planning stages of putting together another ladies trip up there this coming summer – I think we can pull it off! We'll see.
Hope you're keeping warm and dry.