7/1/17 – The Boundary Waters Canoe Area Wilderness is home to thousands of species of flora and fauna that grow and live in a variety of ecosystems – swamp, forest, rivers, and of course lakes.
The Kelso Loop, a popular day paddle out of Sawbill, is an excellent introduction to the biodiversity the BWCA holds.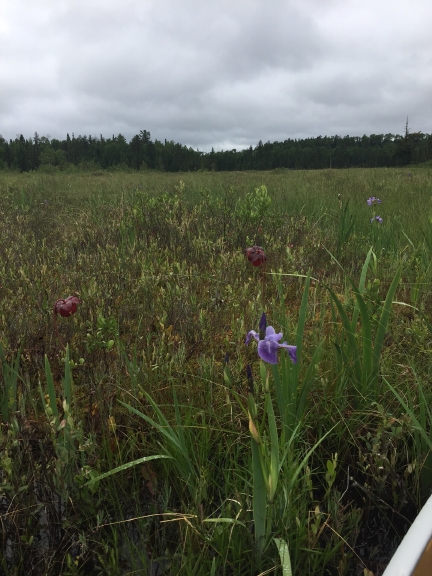 Pictured above are two wildflower species: The red pitcher plant flower, and the purple iris.
The pitcher plant is carnivorous, relying on protein from insects to feed itself. The deep red flowers that rise above the pitcher-shaped leaves attract insects, which then fall down the sloping hairs before being digested in the enzyme liquid held in the pitcher. Spiders sometimes build their webs across the entrance of the pitcher, having adapted over time to this readily available source of food.
The iris is widely regarded as one of the more elegant wildflowers. Its name comes from the Greek word for rainbow, a nod to its brilliant colors.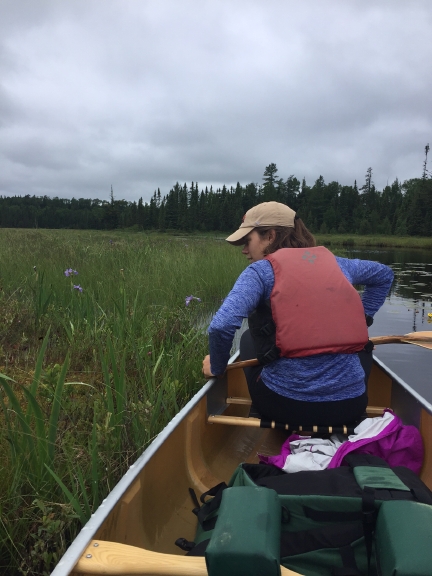 Karlyn Russell, visiting from Madison, WI, takes a closer look at an iris.
Sawbill has a number of wildflower reference guides on hand, so please ask one of our staff members if you need help identifying a floral find of your own! -Elena