7/2/18 – This week, a volunteer from the Minnesota Loon Monitor Program has come to collect information about loon populations near the Sawbill lake area. The Minnesota Loon Monitoring Program is a project conducted by the Minnesota Department of Natural Resources. The project recruits volunteers to gather information about Loons in different areas of lakes around Minnesota.
The program collects information on Minnesota loons from six different sectioned areas called "index areas". Index areas are mapped areas containing one hundred lakes each. These index areas are spread all throughout Minnesota, which ensures full coverage of the loon populations. Since there is such a large area of lakes to survey, the DNR benefits immensely from the volunteers generous work.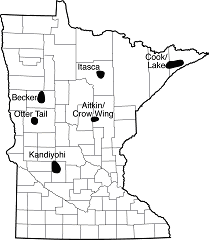 To ensure data consistency, volunteers have an eleven day window from June 29th to July 9th to collect their data. The counting process of loons must occur between 5am and 12pm. Other factors such as weather and shoreline conditions are collected as well.
The MLMP has been conducted since 1994. The longitudinal data collected by this project is used to monitor population health of the Minnesota Loons. The data has shown that loon occupancy, the statistical chance of seeing a loon, has stayed relatively equal for the past eight years. For the greatest chance of seeing loons, head over to the Itasca index area, this area has the highest reported loon occupancy according to the MLMP. 
Kevin, an MLMP volunteer who is staying in the Sawbill campground this week, is currently in charge of surveying five small lakes near Sawbill. He states that loons are territorial birds and groups or families of loons inhabit designated sections of lakes. The smaller lakes he is surveying such as Agnes, Finger and Tomash only have up to one family inhabiting them. On larger lakes such as Sawbill, multiple families of loons inhabit different areas.
The state of Minnesota is blessed with the presence of such a beautiful bird. It is everyone's responsibility to protect and preserve the precious biology of the wilderness. If you are interested in getting involved with the preservation of wildlife, consider visiting the DNR website link posted below. A link for the Minnesota Loon Monitoring Project is posted below as well.
https://www.dnr.state.mn.us/volunteering/index.html
https://www.dnr.state.mn.us/eco/nongame/projects/mlmp_results.html
– Nathan