5/20/19 – It is with great sadness that I share the news of Mary Alice Hansen's passing here with our Sawbill family. She lived a remarkable life and died a dignified death, and really, what more can any of us hope for? In her last days, stories from and of Sawbill crew and customers brought her great peace and joy.
Below is her obituary, written by her son, and my dad, Bill Hansen. – Clare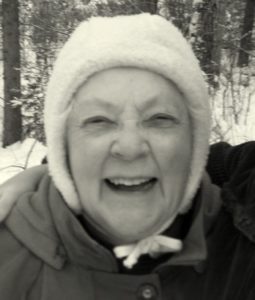 Mary Alice Hansen, 95, Grand Marais, died on May 8, 2019 at North Shore Living in Grand Marais. A memorial service and celebration of life will be 1 p. m. Wednesday, May 22 at the First Congregational United Church of Christ in Grand Marais.
Mary Alice was born to Fred and Alma Grobe in Hutchinson, Kansas on September 1, 1923, their only child. She graduated from Hutchinson High School at the age of 16. She graduated from Hutchinson Junior College in 1941 and the University of Missouri in 1943, Phi Beta Kappa, with a B. S. in child psychology. She was a member of the Chi Omega sorority. She received a Masters degree in child psychology in 1945 from the Institute of Child Development at the University of Minnesota in Minneapolis.
While in graduate school, she met and fell in love with her fellow-student, Frank William Hansen, and they were married on August 29, 1946 in Huchinson, Kansas. They remained married until Frank's death in 2010.
Mary Alice led a life of remarkable accomplishment, as a professional, entrepreneur, historian, author and community activist. She was a school psychologist for the Bloomington, Minnesota public school system from 1961 until her early retirement in 1977.
She and Frank founded Sawbill Canoe Outfitters, on Sawbill Lake, at the edge of what is now the Boundary Waters Canoe Area Wilderness in 1957. She managed Sawbill Canoe Outfitters for more than 30 years, living at Sawbill Lake from 1977 until 2008, before passing it to her children and grandchildren.
She wrote and published a popular book, Sawbill History and Tales in 2007 at the age of 83.
She served as Tofte Township Clerk for many years. She was instrumental in founding the North Shore Commercial Fishing Museum and edited the museum's newsletter. She was an active member of the West End Garden Club and was named Tofte Citizen of the Year, among many more awards and activities. She traveled extensively and kept lively and accurate journals.
Mary Alice was told by her father, "You can feel good by helping others," which she took to heart and passed on to her descendants. She was known for her beaming smile, friendly demeanor and lively conversation. She will be deeply missed by her many friends and loving family.
Mary Alice is preceded in death by her parents and husband.
She is survived by son, Karl Fredrick (Lee Stewart) Hansen; daughter, Ranna (Kevin) LeVoir; son, William Frank (Cindy Lou) Hansen; grandchildren, Adam Hansen, Ruthie Williams, Marie Ljosenvoor, Clare Shirley, Marc LeVoir, and Carl Hansen; and six great grandchildren. She is also mourned by many former Sawbill Canoe Outfitters crew members, who were influenced by her spirit during their time at Sawbill.
Memorial contributions can be made to the North Shore Commercial Fishing Museum in Tofte and WTIP-FM, North Shore Community Radio, in Grand Marais, Minnesota. Tributes and memories can be left online at CaringBridge.
Mary Alice was grateful to her wonderful and compassionate care-givers at North Shore Living in Grand Marais.