7/18/21 – We're getting some phone calls about the current fire situation in the BWCA so I thought a wildfire FAQ was in order. Of course, the situation is changing from day to day, and we will continue to post updates here and on social media as the summer progresses.
Where are the fires? Currently, there are a number of wildfires burning in the Superior National Forest, as well as the Quetico Provincial Park across the border in Ontario. Below is a map that shows the location of the current fires, with the town of Ely marked for reference.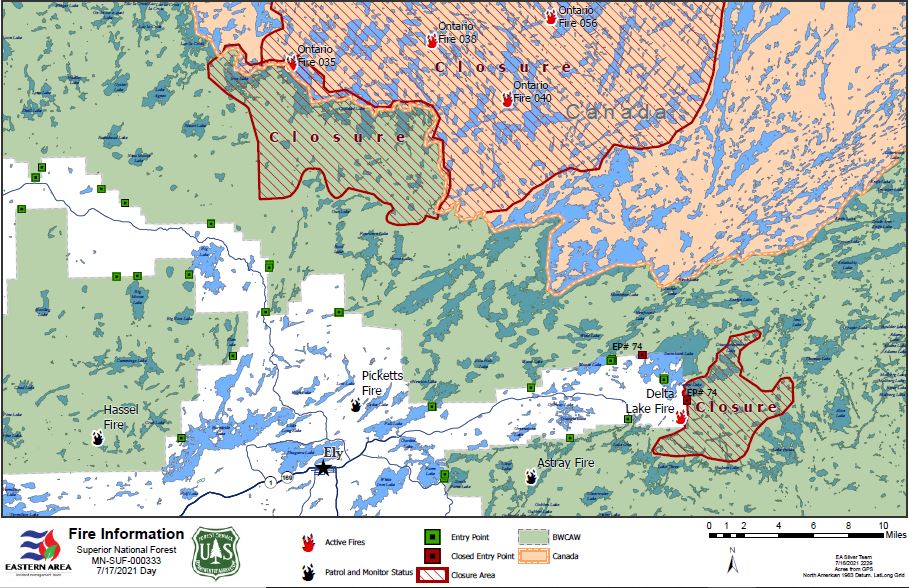 Are any of these fires threatening the Sawbill area? The short answer is no. At the moment, these fires are all quite a ways from us, and there is no imminent threat to us from active fires.
Is there a fire ban? Yes. You cannot have campfires in the BWCA or Superior National Forest. Right now, you can still have a campfire in the designated fire ring at the Sawbill Lake, Crescent Lake, and Temperance River campgrounds. Looking into my crystal ball, I expect that the fire ban will extend to these campgrounds very soon. The fire ban means no campfires, no twig stoves, and no charcoal grills.
How will I know if a fire starts in the area while I'm out on a trip? If the area you are tripping in comes under threat of a wildfire while you are out there, the Forest Service Wilderness Rangers will enter the at-risk area and notify campers. You will be instructed to leave the area and shown the best route to do so.
Is the BWCA closed? There are two specific areas of the BWCA Wilderness that the Forest Service has closed, in an abundance of caution. These areas are at particular risk from current wildfires. Below is a map showing the closed areas.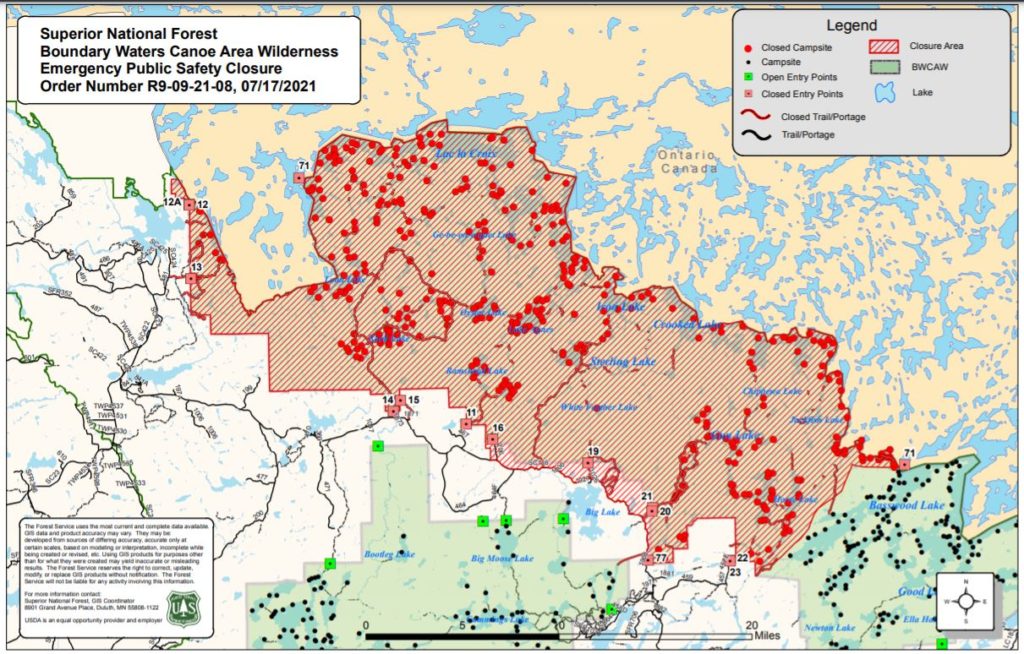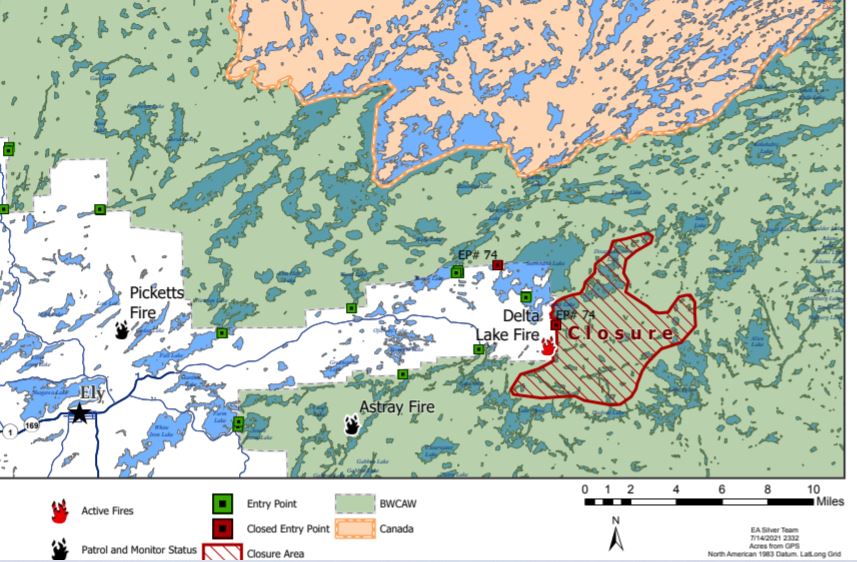 Which entry points are closed? The following is a list of currently closed entry points:
Little Indian Sioux River North #14
Moose / Portage River #16
Stuart River #19
Angleworm Lake #20
South Hegman Lake #77
Little Vermilion Lake #12
Lac La Croix Only #12A
Blandin Trail #11
Herriman Lake Trail #13
Sioux-Hustler Trail #15
Angleworm Trail #21
If you have a permit for a closed entry point, you will get a refund for your permit. You are welcome to book a different permit for another entry point, although availability is quite limited. You can check for open permits on recreation.gov. We service the entry points in the Tofte District, primarily.
The Forest Service does not open up more permits for other entry points, the quota system remains the same as a regular year and once they are booked, that's it. That said, there are opportunities for canoe camping within the Superior National Forest that are outside the BWCA and therefore do not require a permit. One option is the Timber Frear Loop, which is nearby Sawbill.
How smoky is it at Sawbill? There's a significant haze in the air, that is persistent throughout the day and night. The smell of wildfire smoke is like no other, and is ever present these days.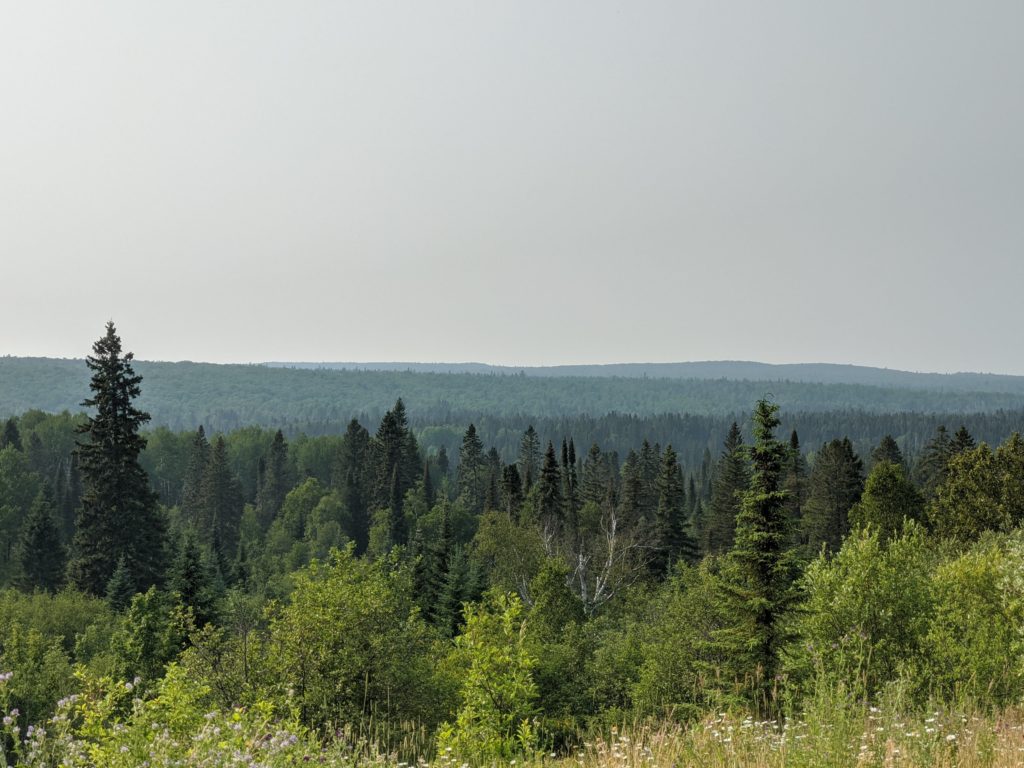 What are water levels like? In a word, low. Routes in our area are still navigable, but the portage landings look at little different than usual. After speaking with groups who returned from Cherokee this morning, the word is that Cherokee Creek is low but navigable, with a few short areas that may require walking while floating the canoe.
Are the bears becoming a problem due to the drought and fires? We have had no reports of problem bears in the Sawbill area. No doubt, it is a rough year for bears and other wild life. Keep a clean camp, hang your food, and ask an outfitter in your area for updates on persistent problem bears.
If you have any other questions or concerns, please don't hesitate to give us a call. We are answering the phones 7am – 9pm, seven days a week. We're working hard to help folks have successful trips! Thank you for your continued support and conscientious efforts to protect and enjoy our favorite Wilderness area.
-Clare