12/24/04 – The most common question we get from visitors in the summer is "What do you do in the winter?" Among many other things, I am the substitute trail groomer for the the Sugarbush system of cross country ski trails near Tofte. One of the regular groomers has been out of town, so I have been working on the trails nearly full time this week. Normally, I drive a Pisten Bully which is a huge snow cat like you see at alpine ski resorts. The Pisten Bully has been broken down though, so I've been driving a snowmobile dragging different sorts of heavy grooming equipment. The weather has been brutally cold with high winds on top of it. Ironically, the snow mobile doesn't do very well in deep snow conditions. You have to stand while you drive and constantly throw your weight from one side to the other to keep it from tipping over or veering off the trail. Along the trail there are deep ditches and steep drop-offs waiting like clever traps that suck the 400 pound machine off the trail and hopelessly bury it on its side in deep powder snow. As a result, I am sore in every muscle and I'm sporting a fairly large frost bite burn under my chin. The trails are in great shape though and ready for the flood of holiday skiers. I also saw a lot of wolf tracks and scat on the ski trails.
We will be joined by our family for Christmas and many current and former crew members are coming up for New Years Eve. This is my favorite time of the year. Happy Holidays everyone! – Bill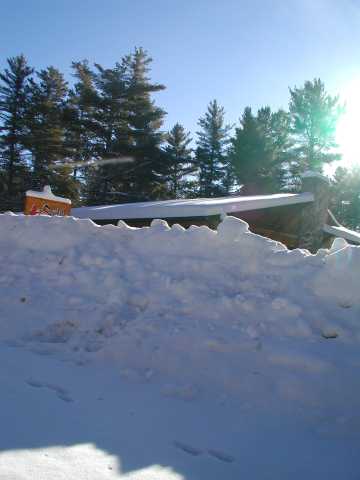 The Sawbill Store is buried in snow!
12/14/04 – Sawbill has been buzzing with activity and the snow keeps falling! Last Thursday was Carl's 15th birthday, and the family celebrated by finding and decorating this year's Christmas tree. Carl also placed 10th out of 60 skiers at the Ely Classic Invitational ski meet last weekend at Giant's Ridge in Biwabik, Minnesota. Today he passed his driving permit written test. That is right, Carl can drive, accompanied by an adult of course! On top of all that exciting news, Sawbill received 18 inches of snow over the weekend. It started snowing on Saturday night and kept on snowing until Monday morning. The trees are caked with snow, and the ski trails are in great condition. – Dave
| | |
| --- | --- |
| | |
| Carl gets ready to blow out the candles on his birthday cake, which Cindy crafted in the shape of two CDs to go with the CDs she made him for his birthday! | Carl chilling out before the start of the ski race at Giants Ridge last weekend. |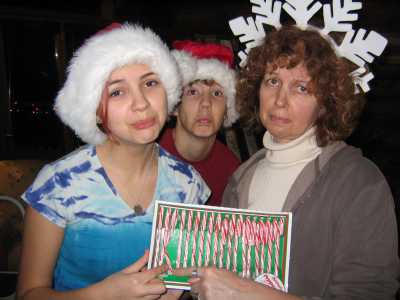 Clare, Carl, and Cindy mourn loss of a broken candy cane .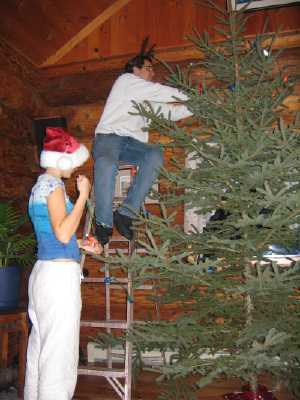 Bill, complete with reindeer antlers, helps Clare string lights on the tree.
12/5/04 – The lake is perfect for skiing right now and the forecast is calling for more snow! Today, Bill and I walked the ski trail one last time to clear windfalls and get it ready for grooming. Hopefully there will be enough snow to groom the trail soon. I am heading over to Wintergreen Dogsled Lodge for a 5 day camping trip on Tuesday. I am going dog sledding! I am going dog sledding! Seven months is just too long to go with out harnessing up a dog team! As you can probably tell, I am pretty excited.
Walter, a crew member from last summer, sent several photos that he took on a trip this summer. Walter is a freshman at Perdue University in Indiana and from the sounds of it he is working hard and having fun, but he is looking forward to getting back to Sawbill, as I am sure many people are. We have heard from several other Sawbill crew members lately. Adam, spent the weekend visiting the Ter Beests in Omaha this weekend. Laura Smith, and Jeff Green e-mailed last week from the west coast where they are visiting friends they met at Sawbill, of course. They are doing well and will be heading back this way soon. Molly is in Illinois working hard writing grants for the Wilderness Classroom. And Alison, Sawbill's famous mellophone player, recently learned that she will be heading to Nashville with the rest of the U of Minnesota marching band for a bowl game in a few weeks. What is the rest of the crew doing? Well, your guess is a good as mine, but hopefully they are preparing for another summer at Sawbill! – Dave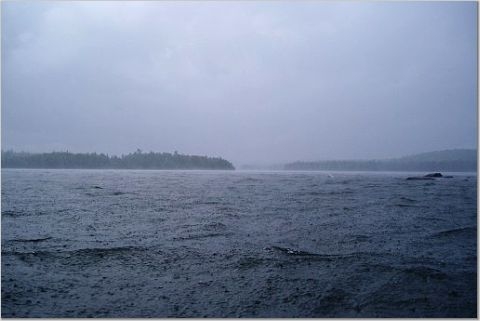 Storm on Alton Lake by Walter Booker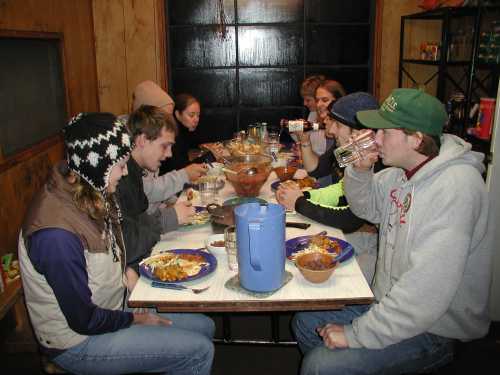 This photo was taken in the middle of October, one of the last times the crew housing was buzzing with activity.
12/2/04 – Cold temperatures and a little more snow have put us in a winter mood here. Dave and I skied over to Alton on Tuesday. Sawbill Lake was completely frozen over with no sign of thin ice except near stream inlets and in the narrows. Alton was still more than half open though. The lake got slushy on Wednesday, so neither skiing nor skating were possible (sigh). Today looks good though. It was 1 degree F last night with an inch of fresh snow. I plan to ski up Sawbill in the dark this evening. – Bill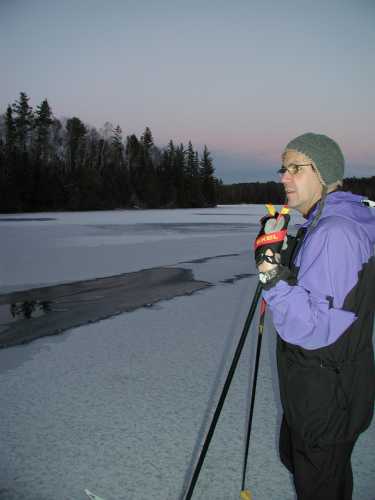 Bill examines the open water where the stream from Alton Pond empties into Sawbill Lake.