12/28/98 – The combination of a wicked head cold and lack of any real news has prevented a timely update of this newsletter. We are enjoying a very relaxing vacation. Adam and Ruthie Hansen are back from school. Ranna Hansen and her children, Marc and Marie, are visiting from their home in Maple Lake, MN. This morning, snow is drifting down softly and steadily. The retrievers are curled up on the porch and covered with a half inch of white fluff. We are skiing on the unplowed campground roads and the lake (when the wind permits). Perhaps today's snow will allow grooming and track setting on the ski trail through the woods. The trails near Tofte are groomed and reported to be excellent, despite having the bare minimum of snow.

12/24/98 – The Hansens will be celebrating Christmas in Hovland, MN with Cindy's mother Arline, on the shore of beautiful Lake Superior. Christmas morning will find us here at Sawbill. Carl and Clare will be up early to see what Santa left in their stockings. The rest of the day will be devoted to skiing, skating, visiting and eating cookies. Happy holidays to one and all 🙂

12/21/98 – The winter solstice is a highlight for us. It is a brilliant cold day with fresh snow on every twig and branch. The sunlight is all the more precious for its scarcity. Clare and I set a track on the lake yesterday for cross country skiing. We were able to put in a fast 12 kilometers before sunset. With a little extra snow last night, we should be able to groom the unplowed campground roads today. The lake may be a little inhospitable for the next few days. The forecast is calling for -25 degrees with a 20 mph wind. Brrr…

12/17/98 – Scott Harris, longtime Sawbill BWCAW traveler and father of former Sawbill crew member Katy Harris, adds by email:

Bill,


I enjoy your newsletter and pop in regularly.
Feel free to improve on this, but I figured this is probably the only way I
can get in the newsletter short of destroying a canoe.


There once was a man with a woodsy purpose.


Who skated fifteen miles on an icy surface.


He saw the remains of a Moose by a bay.


He thought they might have been there just for a day.


And he told us about it on the Internet, instead of using cursive.

12/15/98 – Ed Dallas, the poet laureate of Sawbill writes:
I have found a new form of poetry that works well with condensed prose. It is call haibun. Haiku is placed within the prose. I tried it with the 12 -10 -98 entry to the newsletter. I hope you like it.

lake ice – sky mirror

clouds pass beneath feet – steel blades

etching reflections

ice reflects vivid

colors – small sky arched rainbow –

dark clouds ride cold wind

winter favors none

some make it to spring – others

become gnawed bone piles

wolf pack surrounds moose

winter scavengers must wait

risk takers eat first

red snow

where moose

became wolf


12/10/98 – Sawbill Lake is now solidly frozen from one end to the other. Although the ice is not perfect, it is smooth enough to allow comfortable skating anywhere. Today, I skated a 15 mile circuit in just over an hour. The clouds were black on the bottom, then purple at the next level, fading into pink, and finally snow white on top. The colors were diffusely reflected on the glossy ice surface. One cloud produced a small, but intense, rainbow, also reflected. I found myself skating directly down a rainbow path, surrounded by miles of broad stroke pastels. As I drew abreast of Kelso Bay, about halfway up Sawbill Lake, a sudden movement just inside the bay caught my eye. A raven lifted off what looked like a pile of debris on the ice. It was the remains of a moose, devoured by wolves and scavengers. The moose had fallen about 20 feet from shore. All that remained was blood, hair and the contents of the large intestine. Nearer to shore was a single front leg and the about half the hide. Every shred of flesh had been picked from the hide. The massive leg bone had been sheared clean in half by the powerful jaws of the wolves. Large, bloody wolf tracks led away from the kill, across the gleaming ice. A few small pieces of bone were scattered widely around the area, but everything else was eaten or carried off, including the skull, spine, and three legs with hooves. There is tragic and exultant beauty in the ancient dance of predator and prey.

12/9/98 – Carl Hansen is nine years old today. He received a globe, a Wallace and Grommit clock, and a boom box for presents.
We are excited about our new photovoltaic tracking system. We have mounted 36 electricity producing solar panels on 21′ poles. They turn automatically to follow the sun across the sky, thus increasing dramatically their output of electricity. They join the 40 panels previously mounted on Frank and MA's roof. As far as we know, Sawbill now has the largest solar system in the midwest.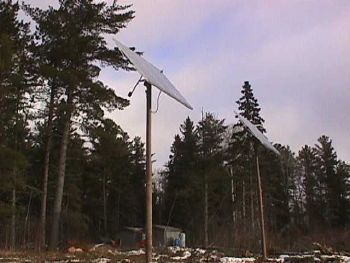 Sawbill's new tracking solar panels.
12/8/98 – Skating is the order of the day.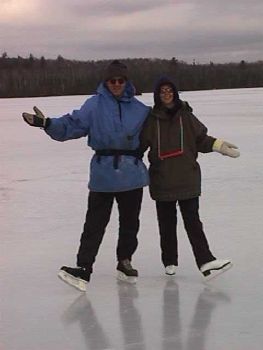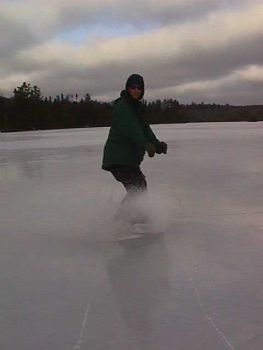 Bill, Cindy and Obie showing their style.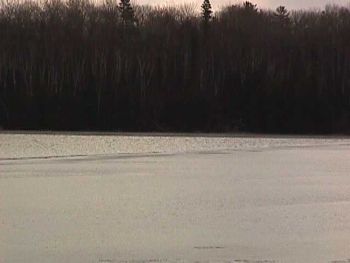 Open water lingering near the Smoke Lake Portage on Sawbill Lake.
12/7/98 – Finally, some cold weather. It is 19 degrees this morning. We need some snow now, as many of us are going through ski withdrawal. It looks like we may be able to skate on the lake today, so that is some consolation. Due to the lack of snow, the hiking season has been extended this year. I hiked two portions of the The Superior Hiking Trail east of Grand Marais this weekend. I encourage anyone interested in the Northshore to check out the trail. It is accessible at many locations for small day trips or for overnight outings. It goes through many beautiful woods, including gorgeous sections of old growth. The vistas over the lake are many, and the trail is well maintained. I hiked a section of cedars rooted high on a ridge above Durfee Creek. Their dark leaves, and twisted shapes, were very evocative at dusk. I returned just as all light receded from the woods, the cedar trunks were elusive shadows, and the only sounds were my crunching feet on frozen leaves.

We've had good reports from our crew members. Jason Morse will be a certified teacher in one week, and we are glad that he plans to return to Grand Marais to seek work. Many of you may remember Dave Freeman from LaGrange IL. Dave started working for us in 1994, but missed last year. He surprised us last month by offering his talents to us again in 1999. Adam Hansen just returned from Germany, where he was the Gambian representative at the Model United Nations. Former crew member Patti Olson is enjoying her neuroscience program at Northwestern. She reports it feels self conscious to be learning how the brain works, while using it so intensely. Erik Hoekstra hopes to return to Sawbill next summer, and he will be entertaining Adam and Eric Frost this weekend at UW Madison. Laura TerBeest picked out the family xmas tree in Omaha over Thanksgiving Break. In short sleeves, she was still too warm – weird.

12/3/98 – Strange days here, lately. Cindy and I just went to check out the lake, and it felt very much like our Spring inquiries regarding break up. The ice is five inches thick, and degrading rapidly as the lake is bathed in sunlight and full of puddles of water. Warm winds from the West are not helping.

Yesterday, a slush layer had refrozen, providing fairly smooth skating. The ice looked just like Spring. On the surface, leaves and other bits of debris were encased in shallow displays, where they had melted into the ice on previous warm days. I skated the perimeter of the lake, as I was nervous to move very far from shore, after Bill's chilling episode last year! Five inches of ice is plenty thick, but when it is composed of slush and has floated up, I err on the side of caution. It was enjoyable to cruise along the shore, dodging in and out of partially submerged trees and overhanging cedars. A wolf must have had a similar interest, as her tracks were with me most of the way. (She investigated beaver's lodge longer than me.) Once the ice has slightly broken away from the shore, it depresses under my weight. A faint crackling, watery sound accompanied me as I cruised along.

On warm days, the water that accumulates on the ice surface needs to drain. Gravity bores holes through the ice, perhaps at the location of a small imperfection. The holes vary in size from six inches to two feet in diameter. They look like ornate starfish, as they are surrounded by drain channels that lead into them. Seen from a skater's vantage, these channels look like aerial views of canyon systems. Five or six encircle each hole and they are slightly depressed. Refrozen the day I skated, I was able to inspect quite closely these dark stars in the ice. The time for skating is so brief, it is truly a treat. I have to physically remind myself of the danger below me, when I become too enraptured. I put my hand in one of the holes I have drilled and feel the life drain out of it in seconds. Recreation and aesthetics take a backseat to self preservation in this sol.