2/27/02 – We had a visit today from Lenert and
Ann Kalberg, from Stockholm, Sweden. Lenert and Ann's son was an
exchange student at the local high school several years ago.
Lenert works for the Swedish Sports Federation. Part of his job
requires him to attend the Olympic games. They stopped by to
visit their son's former host family, Sue and Grey Jordan of
Lutsen. Grey is the general contractor for our construction
project.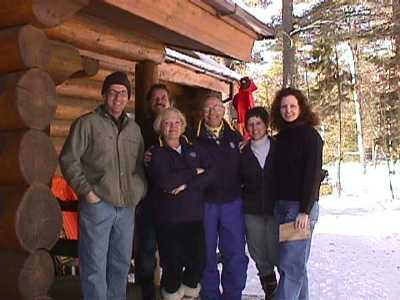 L to R: Bill, Grey Jordan, Ann Karlberg, Lenert
Karlberg, Sue Jordan, Cindy.
Clare Hansen turned 14 years old today. Cindy
baked her an accordion cake. Clare has been playing the accordion
for nine years. She celebrated by going bowling for the first
time in her life.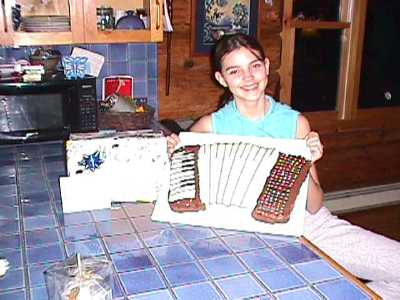 14 year old Clare Hansen
2/26/02 – Tonight there is a full moon – and
there hasn't been a cloud in the sky so far today. Its likely to
be a bright night at Sawbill. I took this picture last night
around 6PM, just as the moon was rising.
An almost full moon rising.
Construction continues to move
along. The sheet-rockers arrived last week and have almost
finished with the new part of the building. The roof isn't quite
done yet as the crew moved indoors to work on finishing the
ceiling. The eight sky-lights are installed and let in so much
warm natural light. The shelves for the basement will arrive
tomorrow so soon we can start moving things in. – Beth
2/20/02 – Our glimpse of spring
two days ago was followed by 6" of snow yesterday. So much
for the sun tanning – but it means more good skiing. And I got to
plow for the second time this season. Cindy wasn't around to race
against this time, so I had to battle the clock. I was on world
record setting pace when I ran into some trouble moving the cars
– one of them had a dead battery. After a quick delay to jump
start it, I was off again. And then I got a little too close to
the septic tank – and plowed the cover right off of it. The
exclamation of "Oh Crap" that came from my mouth seemed
fitting for the situation. Holding my breath, I ran over and
hauled the cover back onto the tank. I finished up without
further incident and while I didn't break the world record, I
think I set a new personal best.
I watched speed skater Derek Parra
set the new world record in the 1500 meter race last night.
Thinking about it afterwards I tried to put it in Sawbill
perspective. 1500 meters is about a mile – which means he could
skate from the Sawbill landing to the Alton portage in one minute
and 43 seconds. Amazing. – Beth
2/18/02 – Lots of people took
advantage of the long President's Day weekend to do some winter
camping in the area. There were over 20 cars in the parking lot
this weekend – its unusual to have more than one or two on an
average weekend. The lakes are great right now for skiing and
pulling sleds. Some strong winds blew early last week and really
packed down the snow. The traffic on the lake this weekend also
created some good trails. Hopefully, the skiing will last a
little longer. We've been luckier than most places in Minnesota
this crazy winter and have had almost a foot of snow on the
ground since around Christmas. However, warm temperatures have
crept in the last couple of days and the snow is beginning to
look a little sparse. But today was so gloriously warm and sunny
I couldn't even get frustrated that the ski trail was melting in
front of my eyes. The high today was somewhere around 45 degrees.
-Beth
The construction guys have begun
putting the new metal roof on the building and are overjoyed that
the weather is being so cooperative. They were working in just
t-shirts today.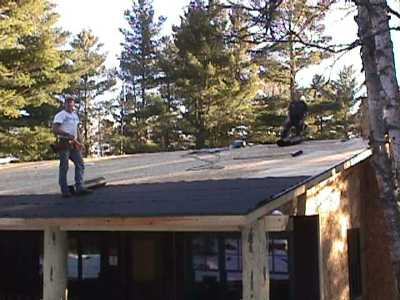 Hans and Don work on their
summer tans.
2/14/02 – We received the
following e-mail from Jeffrey Yelich.
Your newsletter got me looking
back in old travel logs and I found my sighting of a tailless
wolf fishing for spawning suckers, May 6, 1998 at the inlet of
Phoebe Lake. My log reads "as I approached the portage to
Grace I could hear flowing water around the bend and passed by
the carry so as to see the inlet. I saw what I first thought was
a deer, then realized it was a wolf minus its tail and I
silently glided to within 20 yards. Standing on a little
peninsula it was so involved watching the fat exposed backs of
the countless suckers that a full two minutes passed
before it looked around and I was busted. It streaked away
and actually tried to scale a smooth rock wall,I could hear it's
claws scratching on the rock. It jumped quite a distance up the
wall, but no good. It seemed to pull itself together at that
point and with a backward glance it turned away and walked with
great dignity up the creek bottom. By this time the little boat
and I had drifted into the peninsula which was strewn with fresh
sucker carcasses, one can assume it was the wolf thou I didn't
see it catch any."
It is possible its still around, I
hope so. This last year was the first in many years that I failed
to visit your area. We did a lot of the western rivers and its a
good time, but I miss the long solo paddles. The jerky is in the
food dryer as I write and the open water season is right around
the corner (April I hope) see you then!
-Jeffrey Yelich
2/9/02 – I saw three timber wolves on my way to
pick the kids up from school yesterday afternoon. I can't be
sure, because they were moving pretty fast, but it appeared that
one of them did not have a tail. A little farther down the road,
I saw a small black critter scurrying across the road. I stopped
for a better look and was surprised to find a star nosed mole. On
the way home, we saw another mole running around on the road. We
stopped and I captured it in my chopper mittens. These unusual
creatures have twenty two fleshy appendages around their noses.
Scientists have recently discovered that the nose star has six
times the sensitivity to touch of the human hand. Star nosed
moles live in colonies around swampy areas and river edges. They
eat worms, insects and crustaceans. They are breeding this time
of year, which probably explains why they are out wandering on
the road. When we let him go, the mole tunneled into the snow
with amazing rapidity. He sank out of sight like a stone with a
shower of snow erupting from his burrow.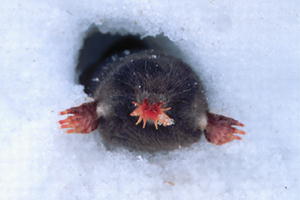 The Star Nosed Mole