8/31/02 – Over the past week Cindy, Carl, and
Clare have been seeing an unusual large white bird in a pond
along the road to Grand Marais. They brought the bird book along
one day and identified it as a Great Egret. This is an unusual
bird to see here as its normal range is much farther south. Its
been hanging out with a Great Blue Heron in the same pond.
Although there is a white morph of the Blue Heron which looks
similar to the egret, this bird had the distinctive black legs
and yellow beak of the Great Egret.
Starting Thursday, September 5th, we will be
switching to our early fall hours of 8am to 8pm. -Beth
8/30/02 – Mark Peterson, Sawbill customer, sent
us these amazing photos taken during his canoe trip to Beth Lake.
The photo of the beaver was taken on Grace Lake, and not from a
Biology book!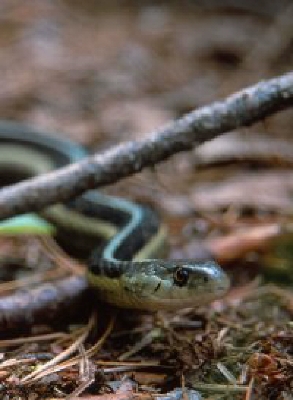 Sunset over Beth Lake. A Garter Snake coming
through camp.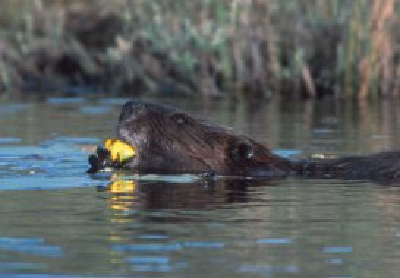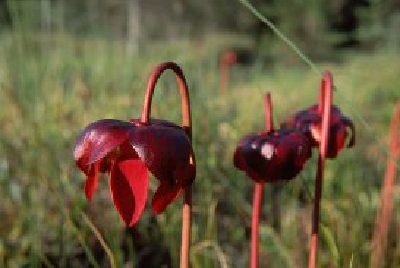 A beaver lunching on water lily blossoms.
Flowers from the Pitcher Plant – a carnivorous plant found in
bogs.
8/29/02 – Signs of fall are becoming more and
more obvious every day. A few small maple trees along the Sawbill
trail have lit themselves up in a brilliant shade of red,
darkness arrives earlier each evening, and sweaters aren't an
uncommon sight. The weather has been gorgeous the last week or so
– warm, sunny days in the low 70s and cool, calm nights in the
50s. Fishing seems to be picking up as the water temperatures
drop. We've had some good reports on walleyes and small mouth
bass over the last two weeks.
8/26/02 – Sawbill customers David and Kathryn
Olson took this photo of a mother moose and her twin calves
on Weird Lake. The second calf is lying down on the right side and
you can just see the tips of her ears. They were able to watch
the moose for a couple of hours. They also had an otter visit
them at their campsite on Weird Lake.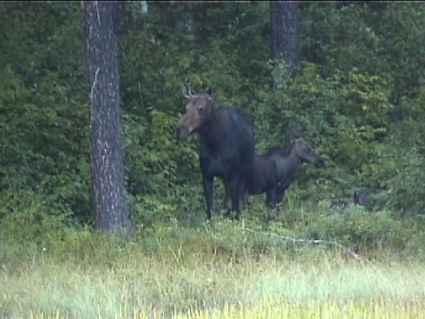 8/25/02 – Crew members Adam Hansen and Max Wilson
just returned from a canoe trip out of Kawishiwi Lake. They
headed north from Kawishiwi with the goal of reaching Kekekabic
Lake, although they didn't quite make it that far (they spent
three hours bushwhacking their way through a one mile "short
cut" which was made up of blow-down, cedar swamps, cedar
swamp blow-down, steep cliffs, and more blow-down), They had
planned to do a little fishing, but forgot their fishing gear.
But, being the resourceful guys that they are, they somehow
managed to find some fishing line on a portage and two lures –
one at a campsite and one strung up in a tree. They collected it
all, found a suitable stick, and on the last day of the trip –
when all the food they had brought was gone – Adam threw the line
in and trolled through Malberg Lake. He had no sooner put the
Rapala in the water than he was hauling out a 6 pound northern.
Not wanting to reach down and grab ahold of a thrashing northern
with large teeth, he yelled to Max to give him something to use
to bring in the fish. Quick thinking Max threw off his shoe and
handed Adam his sock. Adam successfully landed the northern and
moments later brought in a good sized small-mouth bass. Once
again, they realized they were missing an important fishing item
– a stringer. Max contributed to the cause one more time and
rigged up his shoelace as a stringer. They soon ran into another
canoe out fishing. They guys in the other canoe had a huge tackle
box, expensive rods and reels, and not a single fish between
them. With smug grins, Adam and Max held up their homemade pole,
two big fish, and said they thought it was a fine day for
fishing. -Beth
8/24/02 – Exciting news to share – Former Sawbill
crew member Karen Blackburn and her husband Mark Till had a baby
girl on Tuesday. Although we haven't gotten all of the details
yet (such as what they named her), we do know that she was
somewhere around 6 lbs. and both mother and baby are doing well.
8/21/02 – Sawbill customer, Kurt Sedler, sent us
this photo taken on Malberg Lake.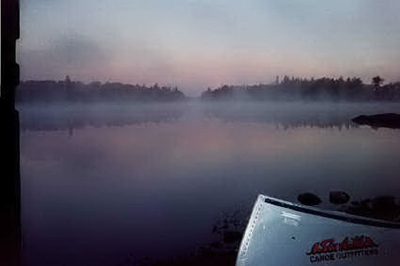 8/20/02 – We've been getting some interesting
stories from people who were on canoe trips over the weekend and
experienced the strong winds on Saturday. Many reported
conditions that were impossible to travel in. Crew member,
Shannon Grace, and her mother were on a trip and were camped on
Frost Lake when the winds hit. They said the winds were so gusty
that water spouts were forming on the lake. Their well-staked
rain fly was blown off – and they were in a very sheltered site.
When they began traveling back the next day, they encountered a
huge cedar tree across the Unload to Gordon portage that had
blown over the day before. Shannon estimated it must have been
close to a one hundred year old tree. Luckily there have been no
reports of any injuries or serious damage. -Beth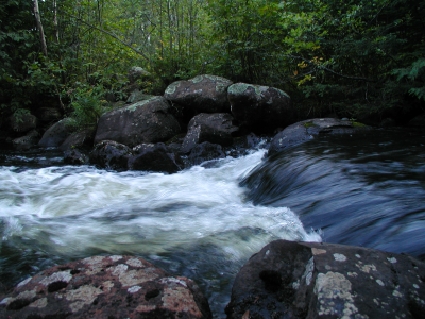 Recent rains have raised the water levels on
Sawbill Creek, as well as on Sawbill Lake.
8/18/02 – Former Sawbill crew members Sandy Zinn
and Will Decker gathered their family and friends at the old
Sawbill Lodge site yesterday and celebrated their wedding. Will
and Sandy met while working at Sawbill in the early '90s.
Everyone bundled up against the blustery, cold weather and
enjoyed a beautiful outdoor ceremony officiated by Dave Schudt, a
family friend of the Deckers and an old Sawbill customer. Bill,
Clare, and Carl fired up their guitar, accordion, and drums
respectively and provided some great music for the wedding.
Afterwards, everyone came inside and warmed up a bit before
traveling to the Schroeder Town Hall for a great dinner and dance
called by Terrence Smith, father of current Sawbill crew member
Laura Smith. A number of former Sawbill crew traveled up here for
the big event, including John "OB" Oberholtzer, Jon
Robertson, Karen Blackburn, Paul Lundgren, Katy Harris, and Mike
MacMillan. Congratulations Sandy and Will!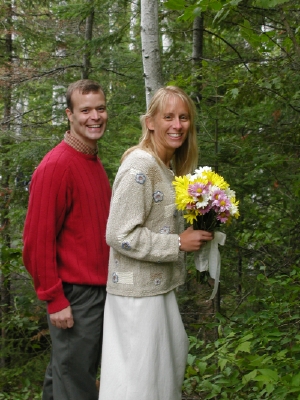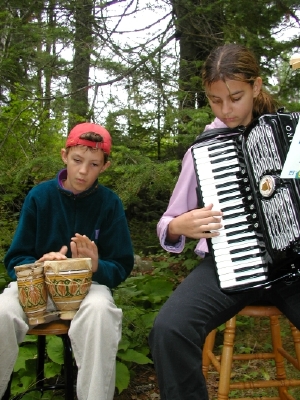 Will Decker and Sandy Zinn – Just Married! Carl
and Clare Hansen provide some great after ceremony music.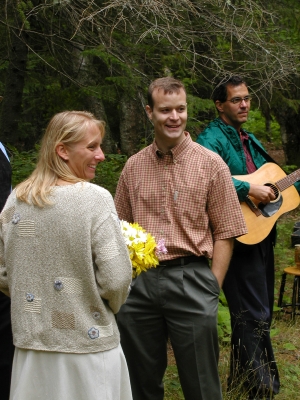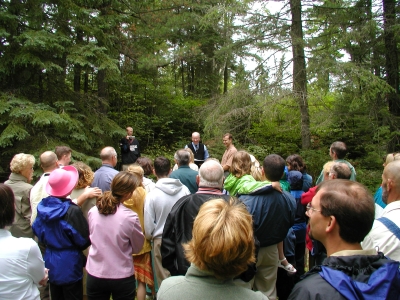 Bill breaks out his guitar and plays while
everyone gathers at the Lodge Site. Dave Schudt officiates the
ceremony as family and friends look on. (All photos by Adam W.
Hansen)
8/17/02 – High winds are causing problems today
at Sawbill. Its an extremely strong south wind, so it makes
getting back to the canoe landing difficult. A few canoes have
swamped – everyone was fine, but soggy. Bhupesh and Laura drove
to Kawishiwi to pick up a group and on the trip home had to move
a number of downed trees that weren't there on the drive to
Kawishiwi. Its also been raining on and off – in the past week
we've had almost 2.5" of rain. Water levels are beginning to
rise a bit – but are still below normal. No word from the forest
service if the partial fire ban will be changed.
JoAnn Koski, the Crescent Lake Campground Host,
stopped by a couple of days ago and reported that they've been
hearing wolves howling at all hours of the day and night from
their campsite. She said that no only can they hear the adults,
but also the young ones trying to imitate the grown-ups. -Beth
8/16/02 – With fall creeping closer, many of the
crew are heading back to school or on to new places. Betsy Moyer
and Nathan TerBeest have already left and Emily Stewart is
leaving tomorrow. Its always a sad time to see them leave.
Luckily, we have a new employee to help with the late summer/fall
season.
Yesterday was crew member Jeff Green's 21st
birthday. He celebrated in style during a crew outing to Tofte.
Happy Birthday Jeff!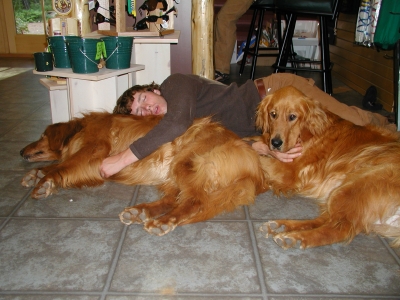 Jeff recovering from his big birthday celebration.
8/14/02 – Clare, Jitesh, and I went blueberry
picking a couple of days ago and stumbled upon a huge blueberry
patch. Every direction we turned had bushes full of plump, sweet
berries. We waded around for an hour or two and filled up our
buckets and our bellies. The crew has feasted on blueberry pie
and blueberry pancakes for the last two days. And, like any good
fisherman would guard his secret fishing spot, we'll never reveal
where the blueberry patch is! -Beth
8/13/02 – We had a spectacular glimpse of the
northern lights about a week ago. The crew had spent an evening
out in Grand Marais and we were treated to a blue and green light
show for the entire ride back to Sawbill. There's been no sign of
them since but we're keeping an eye out for them.
8/10/02 – Signs of fall are beginning to creep
in. The evening air has a crispness to it, its dark by the time
the store closes, and crew members will soon begin leaving. Jim
and Rachel TerBeest, the Sawbill campground hosts, have already
left. Fortunately, our second set of campground hosts, Jim and
Fran Sampson, arrived last week. They will be at Sawbill through
Labor Day and are spending their 5th summer here as the
campground hosts. -Beth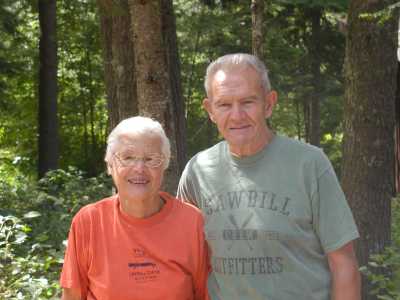 Sawbill Campground Hosts, Jim and Fran Sampson
8/8/02 – Things seem to be back on track after
losing power last week. The replacement parts arrived two days
after the lightening hit and Bill and the power guy, Jerry, had
the place back up and running at full power within minutes. A
collective sigh of relief was emitted by the entire crew.
Tonight is the annual Dome Dance. Every year
Terrence Smith, father of crew member Laura Smith, comes to
Sawbill and calls a dance. He instructs us in the dances, Laura
plays the fiddle, Adam Hansen plays the upright bass, Bill plays
the guitar and other crew members join in with whatever
instruments they play. The dome has been cleaned up and is just
waiting for the music to start. Another tradition is that on the
day of the Dome Dance, the crew picture is taken, as the dance is
planned on a day when all crew members are here. Unfortunately
this year, Peter Jordan is gone today and is missing from the
picture. (Left to Right, starting in the front row, Homer, Laura
Smith, Sunnie, Jitesh Pattni, Row 2: Betsy Moyer, Jeff Green, Max
Wilson, Carl Hansen, Emily Stewart Row 3: Cindy Hansen, Clare
Hansen, Mary Alice Hansen, Shannon Grace, Beth Rolf, Eric Frost,
Frank Hansen Row 4: Justin Hoekstra, Adam Hansen, Bhupesh Pattni,
Bill Hansen, Nathan TerBeest).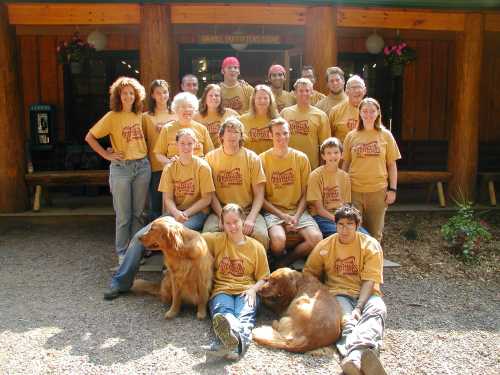 Sawbill Crew of 2002
8/1/02 – Our power system was struck by lightning
last night. We make our own power here at Sawbill and the
lightning killed our main generator, back up generator and half
of our solar system. One component of the solar system survived
and was able to operate our big walk in cooler. Cindy and I were
in Duluth, and came back early in the morning to try and pick up
the pieces. After three hours of frantic work, it looks like one
power inverter ($10,000) is fried. Both our diesels seem to have
broken voltage regulators ($150 each). Hopefully, that is all
that is wrong. The good news is that all our computers, and the
very expensive radio telephone system is fine. If you tried to
call this morning and got no answer, you can call back now. We
pulled out our little 6 KW portable Honda generator and used it
to get the critical computer, communications and refrigeration
working.
Excuse me while I go seek treatment for my ulcer
(joke). – Bill