10/26/02 – We are shocked and saddened today by
the tragic death of Senator Paul Wellstone, his wife Sheila,
daughter Marcia, three campaign staff, and two pilots. Paul and
Sheila frequently vacationed in Tofte and visited Sawbill twice.
I had the honor of being personally acquainted with both of them.
They were warm, honest, deeply caring public servants. Their
motivation came from their deep belief that, working together, we
can make the world a better place. They publicly endorsed me,
offered advice, and took time from their busy schedules to help
me with my campaign for the legislature this summer. They were my
mentors and I never will forget them. Kennedy, Gandhi, King,
Lennon, were all people with a special light burning inside them.
The Wellstones had the same light and the world is a darker place
for its premature extinguishment.
Senator Wellstone's Chief of Staff in northern
Minnesota, Lisa Pattni, is a good friend and the mother of two
current Sawbill crew members, Jitesh and Bhupesh Pattni.
Fortunately, Lisa was not a passenger on the flight and is safe.
– Bill
10/25/02 – The cold weather has been steady for
the past two weeks. This morning, two customers arrived hoping to
take a short trip, only to find that the lake has begun to
freeze. Patches of thin ice are scattered around the south end of
Sawbill. Its another cold, snowy day today.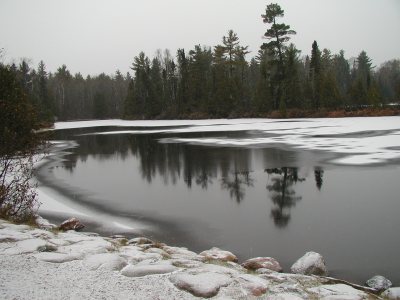 South end of Sawbill
I was driving up the Sawbill Trail last night and
was treated to a spectacular show of the northern lights. I tried
driving with one eye on the sky and the other on the road (hoping
no moose would decide to wander onto the road) and eventually
gave up and pulled the car over near Temperance Campground. I
watched for about 10 minutes and saw three very different phases
of the light show. The first phase looked like iridescent ribbons
waving in circles. The lights danced so rapidly and fluidly,
making spirals and circles above the trees. As those faded, the
second show began. Tall pillars of light shot straight up. I had
my nose pressed all the way up to the windshield in the car and
still couldn't see the tops of the columns of lights. Slowly,
they drifted off and the final act began. A gentle glow lit up
the sky and it seemed as if handfuls of fairy dust were being
sprinkled down. As this began to fade, I started the car and
continued on my way. By the time I reached Sawbill 10 minutes
later, only a few faint rays of light remained. -Beth
10/20/02 – We had our annual pumpkin carving
party last night. We were joined by a lively group of family,
crew members, former crew members, friends and kids.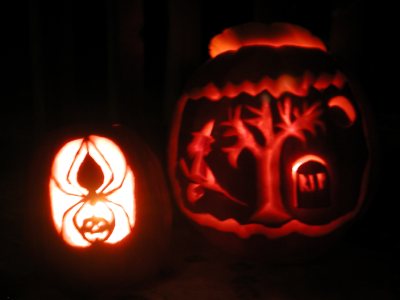 Beth lets pumpkin carving go to her head and
the scary results of a creative group effort.
10/19/02 – For the second weekend in a row, we've
awoken to a Saturday morning blanketed in a couple inches of
snow. Heavy, wet snow fell all day yesterday making the Sawbill
Trail a sloppy, slippery mess. Some of the small ponds and creeks
along the Trail are getting thin layers of ice on them.
With the arrival of snow, fall crew members are
beginning to leave. Peter Jordan departed yesterday
and Jitesh Pattni is wrapping up his last day of work today.
10/15/02 – Eric Flom sent up some nice
"before and after" pictures taken on Alton Lake last
Saturday and Sunday.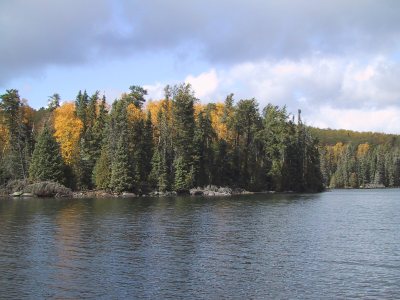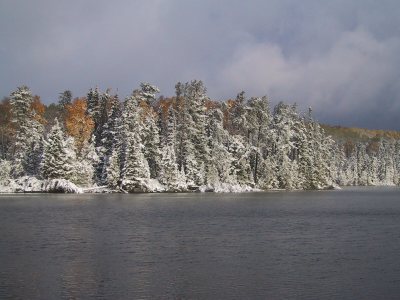 10/13/02 – We had our first snow accumulation
last night. On the way home from town, about 9 pm, it was snowing
hard enough to obscure the road in the headlights. This morning,
when the sun rose, it made a beautiful panorama.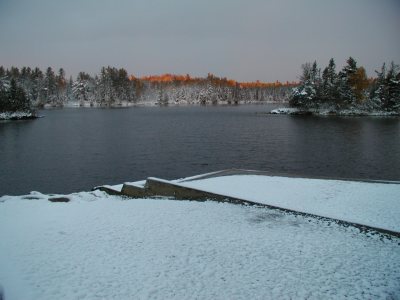 View looking west from the landing this
morning.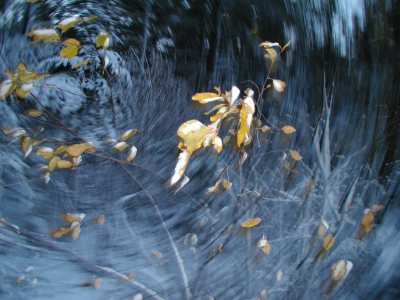 Getting artsy with the snowy woods and a
digital camera.
Clare Hansen, 9th grade, went to her first high
school homecoming dance last night with her friend, Reed Lehto.
Three Sawbill crew members, Laura Smith, Jeff Green, and Jitesh
Pattni were drafted by the school as chaperones. The dance was
great and they got to drive home by the back roads at 2 am.
Earlier in the day, when Clare and Cindy were driving into Grand
Marais for dance preparations, they saw a completely hairless
wolf on the road. Apparently the victim of mange, it had pink
skin. It must be particularly miserable today in the snow.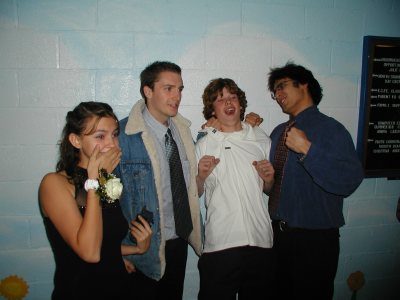 Jeff and Jeet roughing up Clare's date before
the homecoming dance.
Frank and Mary Alice's cat, Teva, was missing for
the last three days. I last heard her meowing in the woods near
the dome on Friday morning. I walked into the woods to search for
her and finally found her up a tree with her tail caught on a
branch. It appears as though she got her long fur caught on the
branch, about 8 feet up, then twisted her tail around the branch
three times in a frantic attempt to free herself. She basically
hung upside down, by her tail for almost three full days,
including below freezing temperatures last night and three inches
of snow. She is alive and in surprisingly good condition. Even
her tail appears to be OK. She was very thirsty, but didn't seem
cold or frozen at all. Her long fur got her in trouble and saved
her life – all at the same time. – Bill
10/6/02 – One of the jobs that needs to be done
every fall is to shovel out the fire grates in the campground.
Hauling wheelbarrows full of ashes into the trailer is a hard job
but can be fairly enjoyable on sunny warm autumn afternoons. Crew
members Laura and Jeff have gotten the job this week – and
unfortunately, its been a very cold and rainy week. They decided
to work on it today and the snow flakes have just begun to fall.
But, they put on their warm hats, picked out their favorite
shovels, and cheerfully headed into the campground. -Beth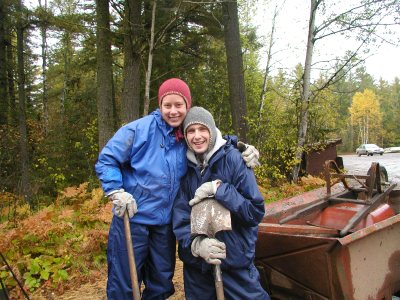 Laura and Jeff model the latest fall fashions
at Sawbill,
10/4/02 – Its a cold, wet, windy day here today.
The leaves have been dropping rapidly over the past two days – I
think the peak of the leaves has passed. There was noticeable
frost on the ground when I stepped outside yesterday morning and
the weather report on the local radio station has predicted snow
for this weekend.
10/3/02 – Sawbill customers, Jack and Debbie
Cook, paddled to Baskatong Lake a couple of weeks ago hoping to
hear some wolves. Not only did they hear them, but were lucky
enough to see them. They e-mailed this photo of a wolf eating a
moose carcass.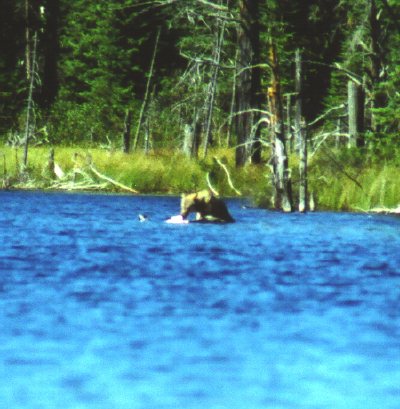 I paddled through the Lady Chain this past
weekend and enjoyed the calm weather and brilliant leaves. We saw
more loons than mosquitoes. A few of the loons had already
changed to their winter colors – they must be almost ready to
take off for the winter. Unfortunately, I didn't get to see or
hear any wolves but saw wolf scat on a couple of portages.
Beginning today and continuing until October
14th, the Perent Lake Road, which leads to the Hog Creek and
Kawishiwi Lake Entry Points and Kawishiwi Lake Campground will be
closed while the highway department replaces culverts. – Beth