12/21/02 – Last night, the Hansen Family Band
(with Clare on accordion, Carl on drums, and Bill on guitar)
wow-ed an appreciative audience with Christmas songs at the
nursing home in Grand Marais. The festive evening also included
performances by the local dance group, Sterling Dance. Kids of
all ages performed ballet, modern, and tap-dances to Christmas
tunes. Clare, who has been dancing for many years, took part in a
many of the pieces. Cindy, also an experienced dancer, tap-danced
up a storm. I made my tap dancing debut and am happy to report I
stayed on my feet the whole time. – Beth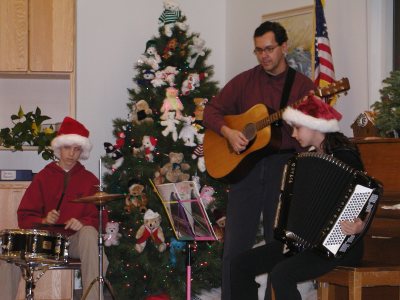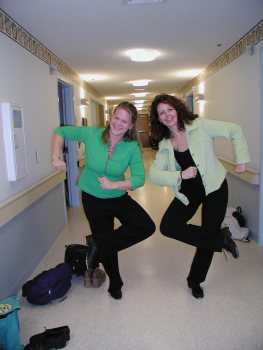 Carl, Bill, and Clare rock out to "Joy to
the World". Beth and Cindy getting ready to shuffle off to
Buffalo in their tap shoes.
12/20/02 – We were lucky enough to have visits
this week from the fantastic trio of Flemily, Frosty, and
Freeman. That is, current and former crew members, Emily Stewart,
Eric Frost, and Dave Freeman. Emily is on break from college and
visiting her family in Grand Marais and Frosty and Dave were up
making arrangement for their winter adventure
(www.wildernessclassroom.org). They had to brave some nasty
weather conditions to get here. We were hit with a sloppy ice
storm on Wednesday. The storm shut down school and turned the
Sawbill Trail into the world's longest ice rink. Last night, over
an inch of sticky snow fell adding some traction to the slick
ground.
As tomorrow is the winter solstice, our nights
are amazingly long right now. A murky full moon illuminated the
snowy sky last night. I walked to the lake hoping that the
insulated silence created by the heavy snow would disguise my
presence enough that I would catch a glimpse of something out for
a night hunt. The only thing I saw were snowflakes, but we've
gotten so few this winter it was almost as exciting as a good
wildlife sighting. -Beth
12/16/02 – Even after our recent warm spell,
there is still enough snow left to ski. We've all got our fingers
crossed for some new snow but the forecast doesn't look
promising. Homer seems to have completely recovered after having
his left eye removed almost two weeks ago. He's back to his usual
entertaining self and goes to the vet tomorrow for a final
check-up. -Beth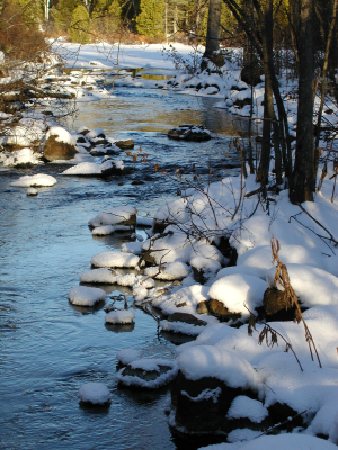 Sunlight spilling over Sawbill Creek
12/13/02 – The past few days have been unusually
warm with highs in the 30s and nights in the 20s. The warmth of
the days has caused some snow melt and has created a lot of
moisture in the atmosphere. A couple of mornings ago, the
conditions were just right to produce a hoar frost. All of the
trees were covered with inch long frost crystals and a dense fog
hung in the air until late afternoon. -Beth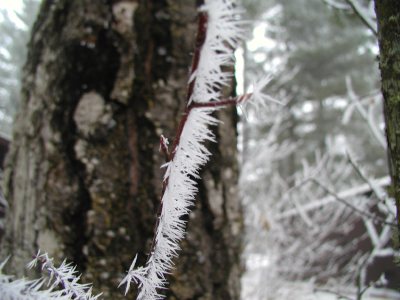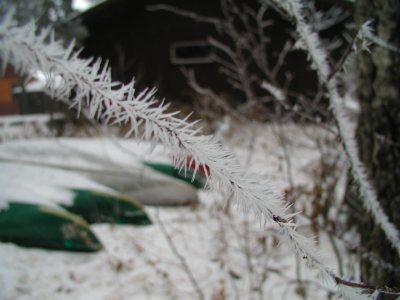 Frost covered branches.
12/12/02 – Surrounded by an X-Box birthday cake,
new X-Box games, and an afternoon of playing X-Box, Carl Hansen
was in hog heaven celebrating his 13th birthday this week. -Beth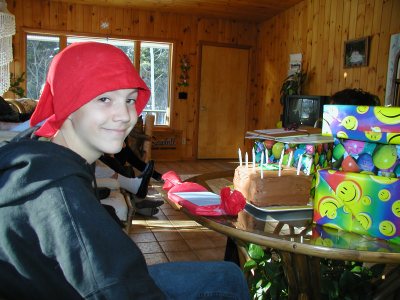 Carl sports the season's trendiest elf hat
while opening his birthday presents.
12/10.02 – I received the following message from
the Forest Service today. It would be wonderful fun for someone
who has their summer free. – Bill
U.S. Forest Service
Volunteer Recruitment Notice
The USFS Kawishiwi Ranger District has volunteer openings for the
summer of 2003. The typical summer volunteer pairs up with a
wilderness ranger to form a two-person crew that performs
campsite and trail maintenance, and visitor contact throughout
the Kawishiwi Ranger District of the Boundary Waters Canoe Area
Wilderness. Other opportunities involve working with a
four-person trail crew, or staffing a remote USFS cabin on
Kekekabic Lake.
These are considered "long term" positions, where a
person's minimum availability is required from early June
through most of August, although earlier arrivals and later
departures are often an option. No cost housing while not
"on trail", as well as reimbursement for incidental
expenses such as meals is included.
For a detailed description of job duties and expectations, please
refer to: www.fs.fed.us/r9/superior,
wilderness, volunteering, manual. An application is also
available on this site.
Inquiries can be directed to:
John Pierce
Volunteer Coordinator
Kawishiwi Ranger District/Superior National Forest
118 S 4th Ave E
Ely, MN 55731
Phone: (218) 365-2080
e-mail: jpierce@fs.fed.us
12/05/02 – Homer, our golden retriever with the
giant personality, had to have his left eye removed two days ago.
He suffered from a fungus infection in the eye back in June.
Although he beat the infection, the eye was damaged beyond
usefulness, inflamed and wouldn't respond to treatment. He looks
a little ghastly at the moment, but his spirits are good and he
is healing fast. Ironically, our older retriever, Sunnie, lost
the same eye to the same disease seven years ago. – Bill
12/3/02 – I was able to ski on the lake again
today for the first time in two weeks. Since the lake froze over,
there has been persistent and widespread slush on top of the ice.
That has been rectified during the last two nights which have
reached minus 10 degrees. The frozen slush now is covered with
varying amounts of cold, dry snow. The skiing is good, but not
great. After I had skied only about a mile, I spotted four wolves
running across the ice in the narrows. All four were large adults
and they were kicking up jets of snow as they sped down the
shoreline. Later, I was picking my way through a trail that
connects Alton and Kelso Lakes. The trail had so much rabbit
traffic that it had hardened up enough to hold my skies on top.
When I reached Kelso, all the rabbit tracks turned abruptly into
a thicket, but one set of tracks led out onto the lake. I was
surprised to see that they were the distinctive round tracks of
the bobcat. I haven't seen bobcat tracks near Sawbill for more
than twenty years. At the end of the ski, I stopped by Sawbill
Creek to enjoy its snow shrouded beauty. Swimming in the open
water at the mouth of the creek was a duck. I couldn't identify
the species exactly because the light was failing. I do know that
it is a crazy duck though. – Bill
12/1/02 – We got our Christmas tree today. This
year we broke with tradition and selected a tamarack tree. The
tamarack is the only conifer in this region that sheds its
needles in the winter.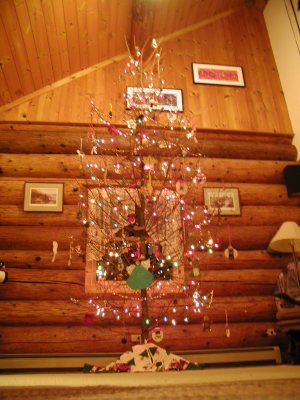 Before and after.