1/29/04 – Adam and Dave have been up on Frost Lake for the
last four days on a training trip before they depart for northern
Manitoba. They have had a good test with 10" of snow on the
first day and temperatures of -30F last night. They were actually
due back yesterday, but the heavy snow and slush between the lake
ice and snow cover slowed them down. You can read their journal entries on-line.
My regular sunset ski was a
chilly one last night with temperatures at 5 PM reading -16F and
dropping. A 25 mph northwest wind added to the face numbing
conditions. Part of our ski trail runs on an old logging road. As
I crested a small rise I was surprised to see a large, black
animal about 20 yards ahead. It was late twilight, that time of
day when objects appear in silhouette, with all detail lost. At
first I thought it was the large black wolf that has been a
regular visitor for the last year. It turned out to be a moose
calf. It stopped when it saw me. We looked each other over and it
ambled off behind a row of spruce trees. On my next loop around
the trail, the calf's mother was standing in the same spot. She
was unwilling to move, so I respectfully skied around her. I was
happy to return to a warm, inviting house after my ski, instead
of spending the night bedded down in the snow like the moose. –
Bill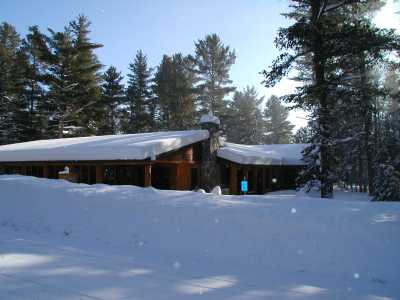 The Sawbill Store
hunkers down under 3′ of snow and -30F temperatures.
1/20/04 – We have been enjoying some real
northwoods winter weather and activity recently. Last night the
temperature dipped to -26 F. Adam and Dave's dog team has been
living on the Sawbill parking lot for the last couple of weeks.
Every day they take a run out into the wilderness as they toughen
up man, beast, and equipment for their big WildernessClassroom.com adventure to come. With the cold temperatures and
18" of new snow in the last week, conditions have been
perfect for sub-arctic training. The dogs are friendly and well
socialized. They each have a distinctive personality and several
are real characters. – Bill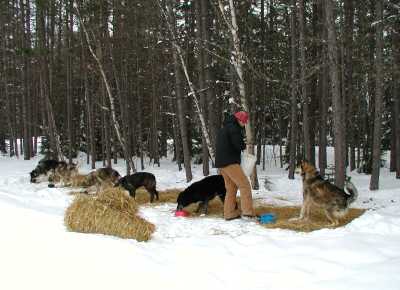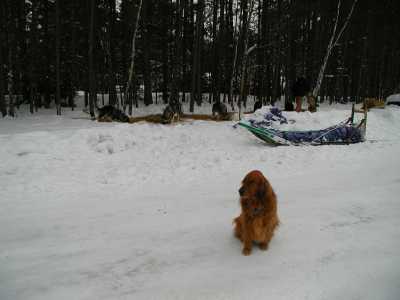 Adam feeds the team. L – R:
Thistle, Daisy, Munchkin, Fennel, Saylex, and Lichen. Homer
lounges near the sled while the "working" dogs eat
dinner.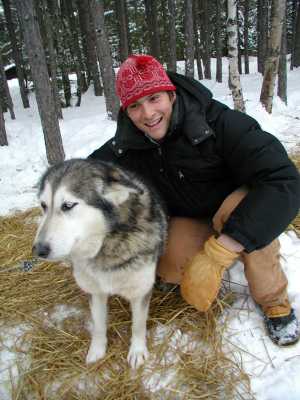 Adam gives Munchkin a hug.
She is the mother or grandmother of the other five dogs.
1/7/04 – The howling of sled dogs is
floating through the air as the thermometer heads for -20 degrees
F again tonight. Dave Freeman and Adam Hansen of WildernessClassroom.com are living at Sawbill as they train for their two
month sled dog adventure in northern Manitoba. Beginning in
February, the six alaskan huskies and two men will be in the deep
frozen wilderness while staying connected to hundreds of school
children via satellite phone and the internet. I will be putting
more information about their journey here in the near future.
Lynx are being sighted with regularity all
over northeastern Minnesota in the last couple of years. The
University of Minnesota has managed to live trap a few, including
one quite near Sawbill, and track their movements via radio
beacon collars. You can see the maps of the lynx' travels at the Canada
Lynx of the Great Lakes website.
Lynx #5 is the one that was trapped near here. We saw it
ourselves several times during the last year.
Canada Lynx are again fairly
common in Northeastern Minnesota. (Photo from U of M)
Here are a few more pictures
from the fun we had over the holiday season: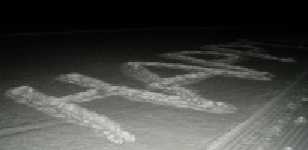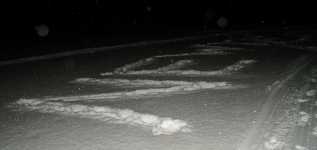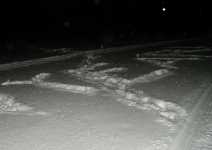 Holiday greeting on Sawbill
Lake for passing satellites courtesy of Tess Dornfeld.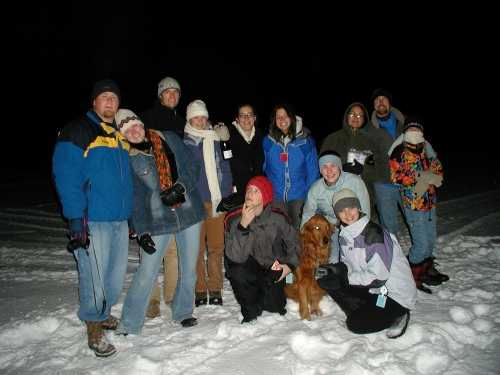 (L-R) Nathan, Belinda, Max,
Kari, Ruthie, Carl, Lida, Homer, Tess, Clare, Carol, Kirk, and
Britta. Sawbill crew – past, present and future – on Sawbill Lake
at the stroke of midnight 1/1/2004.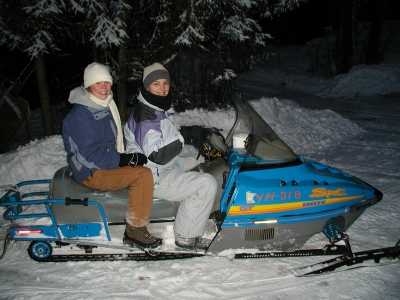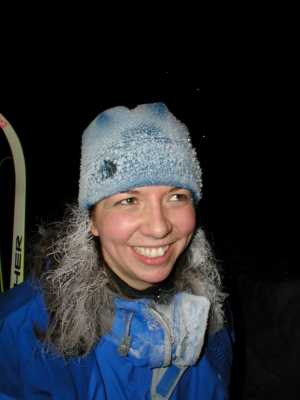 Kari and Clare return from a
snowmobile ride. Lida showing the effect of a 16 kilometer
backcountry ski to Smoke Lake at -10 degrees F.