2/27.04 – Last night was Carl Hansen's
acting debut at the famous Grand Marais Playhouse. He received
good reviews for his performance in the Playhouse's Ten Minute
Theater Festival. Today is Clare Hansen's 16th birthday. Happy
birthday Clare!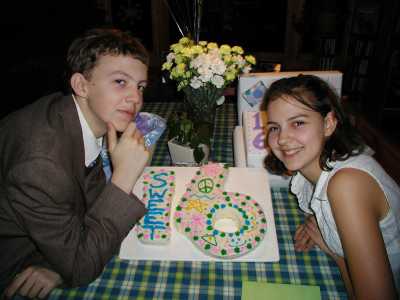 Carl, in costume,
contemplates Clare as she turns sweet sixteen.
2/18/04 – We received the following email
and photos from Bob Henry. The "CCC" he refers to is
the Civilian Conservation Corps camp that was located on the
Sawbill Trail 6 miles south of Sawbill Lake. It was a large camp
with hundreds of men. The CCC was a very successful federal
program to create employment for young men during the depression.
– Bill
Bill & Frank
Hansen:
I am sending an attachment of photos from 1958, when my dad,
Wayne "Pinky" Henry stayed at the campground with his
siblings. Wayne began his Sawbill journey back in the 30's at the
CCC just South of Sawbill Lake. I began annual visits in 1961,
and enjoy my annual trips. Feel free to share this on your
newsletter if you wish. Thank you for years of service and great
memories. Wayne passed away in 1968 at only 51 years of age.
Bob Henry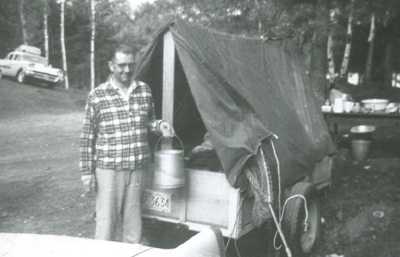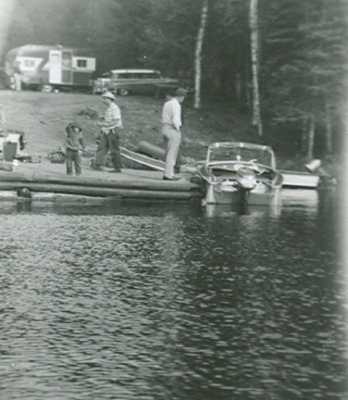 Pinky Henry with an early
pop-up camper at Sawbill (not sure of exact location). The
Sawbill Lake canoe landing in 1958.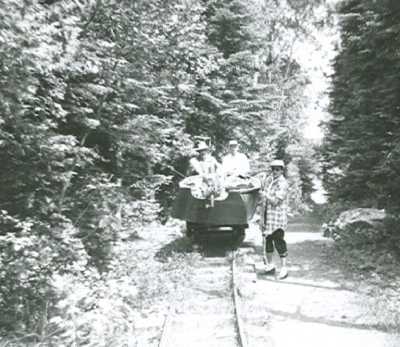 Alton to Sawbill Lake
portage, looking toward Sawbill. The narrow gauge railway
extended into the water so boats could be floated on to the car
and pulled across portage. The railway was removed in the early
'70s.
2/17/04 – We had a number of former Sawbill
crew ladies visit over President's Weekend. Eight former crew
members joined us for coffee, visiting, cross country skiing,
wine, game playing, and laughter. Patti Olson, Michele Thieman,
Annie Strupeck, Beth Rolf, Sandy Zinn, Ellen Lock-Bagnato, Kate
Surbaugh, and Steve Surbaugh (not a lady, but oh well) were in
attendance, at least for part of the weekend.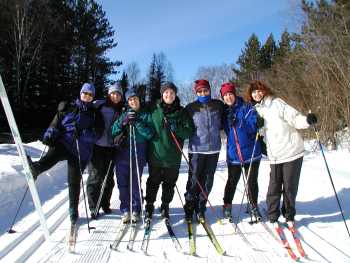 Michele, Sandy, Ellen,
Patti, Beth, Annie, and Cindy. Not pictured – Kate and Steve.
Adam Hansen and Dave Freeman
have posted the first update from their two month sled dog adventure in northern Manitoba. – Bill
2/12/04 – Last summer, a black wolf hung
around the Sawbill Trail. He was nearly fearless and approached
within a few feet of cars and campsites. He never seemed hostile,
but clearly was seeking out human beings. We guessed that he was
a wolf/dog hybrid or had been raised in captivity. This fall he
moved down near Highway 61 and became well known among the
residents of Tofte. We feared for his safety as there are still
uninformed people who shoot every wolf they see. In the end, it
was a speeding car on Highway 61 that killed him. His body was
recovered by the local game warden and there is some talk about
getting permission to have him stuffed for educational purposes.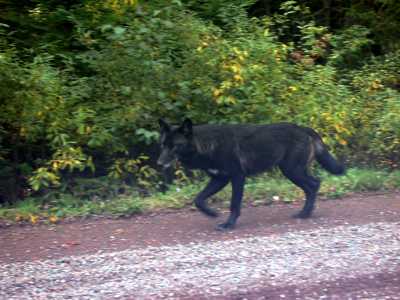 The distinctive black wolf seen by many Sawbill
visitors during the summer of '04.
On the same day that the black wolf died,
Carl Hansen took a hard fall on his snowboard while riding at
Lutsen Mountains. He separated his shoulder and is now sporting a
magnificent rainbow colored bruise from his shoulder to his
elbow. It prematurely ended his season with the Cook County High
School cross country ski team. Carl is healing fast though and
expects to be back on his snow board and cross country skis this
weekend. – Bill
2/8/04 – Frank Hansen turned 83 years old
on Friday, February 6th. He is in good health and spirits.
I just returned from delivering Adam and
Dave to Norway House, Manitoba, where they have embarked on their
two month sled dog adventure in the wilds of Canada. We had a
great trip up with frequent stops to let the dogs stretch their
legs. We speculated about what the dogs thought of downtown
Winnipeg. They all had their noses poking out of their boxes as
we negotiated the busy streets. Everywhere we went, we were
treated to the warm Manitoban hospitality. Dean McLoed and his
family were very kind to us in Winnipeg. They let us keep the dog
truck in their driveway overnight and helped us exercise the team
in the local dog park. We also visited the St. James Ravensway
School where Dean is a science teacher. He happened to be
teaching an interim class on winter camping skills, so Dave and
Adam's appearance was well timed. In Grand Rapids, Manitoba we
met up with Gerald McKay and his friend Preston. We spent the
night at Gerald's house and they accompanied us on the four hour
drive up to Norway House where they introduced us to several of
their friends and relatives. Both men are born and raised in
northern Manitoba and had many good stories to tell. their
lifestyles are similar, in many ways, to the lifestyle here in
the northwoods of Minnesota. Their lakes, rivers and woods are
similar, and they have even have Lake Winnipeg, which has a
similar feel to Lake Superior. They have a deep sense of their
history and a great sense of humor.
Adam and Dave got underway by dog power on
Saturday, February 7th. They will be posting journal updates three times a
week. – Bill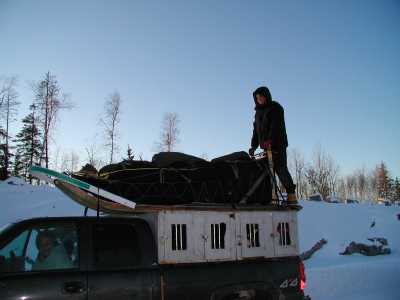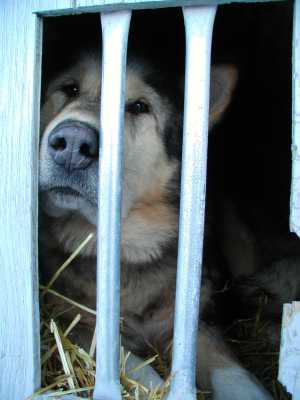 Adam rides the dog
sled as Gerald McKay drives and laughs. Lichen watches the big
world unfold during the 20 hours of driving to Norway House.