3/24/04 – We received a surprise visit
today from former Sawbill crew member Jeff (Tuffy) Thompson (1995
– 1998) and his girlfriend, Lynn Schrader. He had not visited for
several years and was amazed by the remodeling of our main
building. Jeff is currently a graduate student at the University
of Missouri School of Journalism in photo journalism. He was
recently awarded a "Pictures of the Year International Excellence
Award" for his photo story of the great Iowa bicycle tour, Ragbrai. This is one of the world's most prestigious photo
journalism awards. When Jeff worked at Sawbill, he was once
assigned the job of building a quick three-roll toilet paper
holder for our public bathroom. Rather than the simple t. p.
holder we had in mind, he spent nearly a month crafting a canoe
theme t. p. holder masterpiece. When we remodeled two years ago,
we took great pains to preserve Jeff's creation and install it in
the new public bathroom. Who knew that it was a precursor to a
major artistic career. Some day it will be worth millions as an
original Thompson.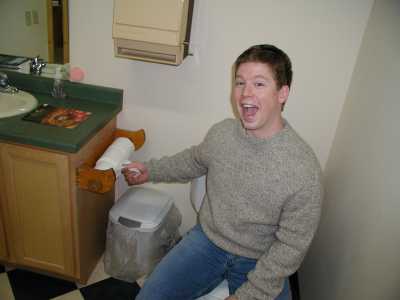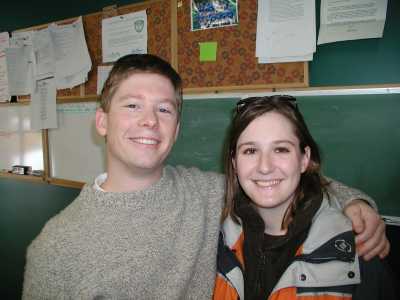 Jeff (Tuffy) Thompson checks
the function of his famous toilet paper holder. Jeff with his
girlfriend Lynn, who had no idea the range of Jeff's youthful
accomplishments.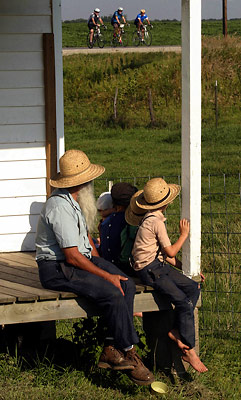 One of Jeff's award winning
photos. The entire photo story is at www.poyi.org.
3/21/04 – Spring has not sprung here at
Sawbill yet. Last night the temperature hit one degree below
zero. The sun light lasts well into the evening now and the sun
feels strong during the day. I expect the next week will bring
some significant thawing. In a couple of weeks, we'll start our
annual ice-out watch here on the newsletter.
In case you haven't been following the
Wilderness Classroom Adventure, here is a picture of Adam on the
trail in northern Manitoba.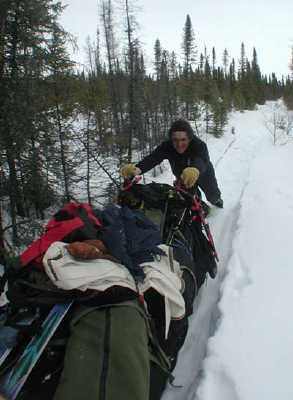 Looks like fun!?
3/10/04 – In the great American tradition,
Clare's sixteenth birthday was followed by that other important
rite of passage, getting a driver's license. It is a great relief
to us (especially Cindy) that Clare will now be able to drive
herself and Carl to and from school each day. This will reduce
our mileage and increase our hours of sleep significantly. Clare
headed off bright and early this morning with Carl riding
shotgun. They ended up being late to school and hopefully learned
a valuable lesson about driving on backwoods gravel roads at the
same time. I'll spare you the details, but no damage was done,
except possibly to Clare's driving reputation…
Clare exudes confidence as
Carl prepares for the worst on their first day of solo school
commuting.
3/1/04 – Ed Dallas, the Poet Laureate of
Sawbill, sent along this evocative haiku today:
Sawbill tradition
each fish gains a pound or two
around the campfire