4/28/04 – Steve Wilbers, noted author and
long time Sawbill canoeist, has compiled an excellent chronology of the BWCA Wilderness. He has it broken down into four different options:
long, short, wilderness management,
and natural history.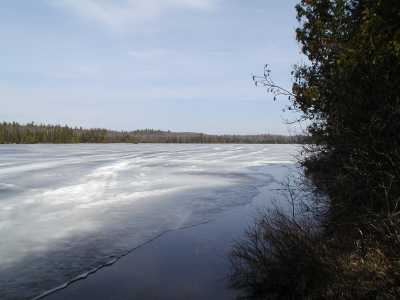 Sawbill Lake at Noon on
April 28th. At least a couple of more days until the ice is gone.
4/27/04 – Sawbill Lakes ice is no longer
safe to stand on to drill a hole. From shore, it looks like about
a foot of total ice, although much of it is highly degraded.
Yesterday had a high temperature of 34 degree with snow falling
off and on all day. Last night the low was 18 degree. Today it is
in the high 30s with snow showers. Warm weather is in the
forecast though. If that holds, the ice should go out during the
weekend. Predictions are always dangerous though 🙂 – Bill
4/22/04 – The ice is now 16" thick
with 9" of slush on top and 7" of hard ice underneath.
The forecast calls for a couple of cold nights, but then high
temperatures in the low sixties over the weekend.
4/19/04 – Our first new crew member, Molly
Breslin, arrived yesterday from California by way of Illinois.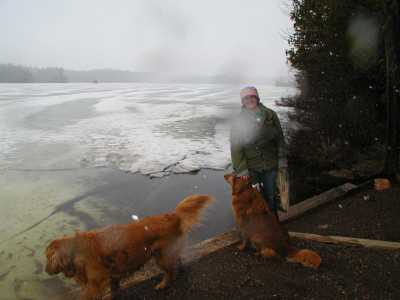 Molly in a late April snow shower at the
Sawbill Lake canoe landing.
The official ice thickness measurement was a bit
of a challenge today. An even inch of rain yesterday left the
lake with 8 – 10" of slush on top of ~10" of hard ice.
The slush was just deep enough to go over the tops of my boots,
giving my feet a refreshing slush treatment.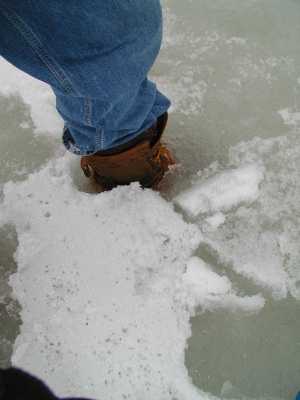 An inch of rain creates deep slush on top of
10" of solid ice on Sawbill Lake.
Cindy, Carl and Clare Hansen return today from a
10 day visit to the Caribbean island of Anguilla. Cindy's step
father has a house there that he is kind enough to let us borrow.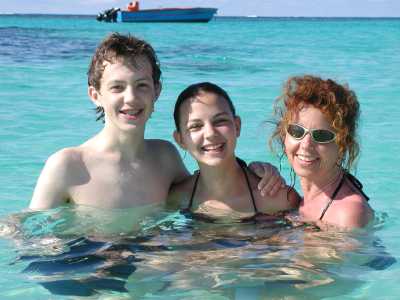 Carl, Clare, and Cindy suffering in the
Caribbean.
4/13/04 – We've been getting lots of
questions about the ice, how thick it is, etc. So visiting
former-crewmember Eric Frost, his girlfriend Jessa, and I headed
out to explore the Kelso Loop by ski and report back to you. The
ice on South Sawbill Lake is 27" thick. The Kelso River is
about 15 percent open, as is Kelso Bay on Sawbill Lake. We were
able to ski around the open water, but I don't think we'll
attempt it again this season.
One of our beloved golden retrievers,
Sunnie, fell through and needed my assistance to get back on the
ice. I crawled over to her on my belly and yanked her out by her
collar. She immediately showed her appreciation with a full body
shake inches from my head. Loyal readers of this page will
remember Sunnie's late brother, Gust, who died a few years ago
when he fell through the ice exploring Sawbill Creek by himself.
This is a wonderful place for animals, but not without hazard.
4/6/04 – Adam and Dave are back from their
adventures. They are very tanned, but only on their faces.
It is melting very fast here. The high is
going to be near 60 today. The lake has been perfect for ski
travel, but I would start to worry about ice integrity pretty
soon. Cindy and I are going on vacation this week, but I will
encourage Adam and Dave to start testing the ice thickness and
reporting the results here. – Bill
Latest Update from Adam and Dave on the Wilderness
Classroom Adventure in northern Manitoba. Last update.