9/4/14 – The leaves are beginning to change up here at Sawbill as the cool fall air rushes in, and the busy season starts to slow down. Thank you to all who came and helped make this a successful season and we hope to see you again in the future.
Now that fall is on its way here, this a great time for exploring the boundary waters. The changing leaves makes some of your favorite lakes even more beautiful, and the calmer whether makes for some superb paddling. So come up and enjoy the fall here with us. This time of year is great for our crew as well to take a moment to enjoy the beautiful surroundings we have.
Happy paddling and we hope to see you soon. – Mark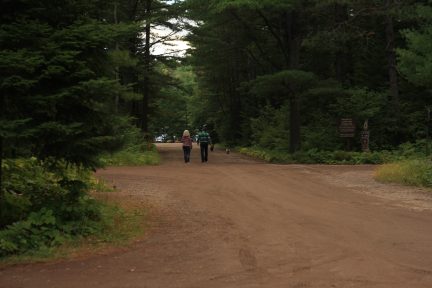 Sawbill Canoe Outfitters' Bill and Cindy Hansen enjoy the end of the Labor Day rush with a peaceful stroll down to Sawbill Lake with their dogs Roy and Phoebe.