9/5/14 – The Boundary Waters Canoe Area Wilderness is a spectacularly beautiful area with rich diversity in species and habitat. From the calm, blue glacial lakes spanning across two continental watersheds, to the exposed, colorful, granite and basalt rocks painted over with ancient Native American pictographs, the BWCAW offers no shortage of dramatic scenery.
With all this rich and beautiful biodiversity comes some of mother nature's most excited reactions, one of these being wildfires. Many of the areas in the boundary waters that you can paddle through show the remains of a recent fire, and these areas can be some of the most picturesque. Here at Sawbill, we have close access and transportation to some of these gorgeous areas. If you are worried that burned areas may be a little lackluster, then let your worries be put to rest.
A recent crew member of ours took a 5-day/4-night trip through some of the burned areas and photo documented her trip.
Burned areas of the boreal forest allow you to see the rich flora hidden on the forest floor. Carla took a series of pictures of several wildflowers growing in the burned area. This picture depicts one type she saw on Townline Lake.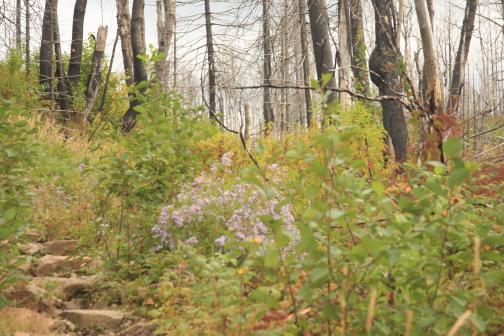 Portaging through burned areas can also be quite the adventure. Though we absolutely love being shrouded in a sea of green, burned portages offer a more unique portrait of the land. Carla described the portage from Townline Lake into Kawasachong Lake as "hands down" her favorite portage. You can view the rich colors and foliage, while also seeing farther off in the distance through the trees and witnessing the changing rise and slope in the land.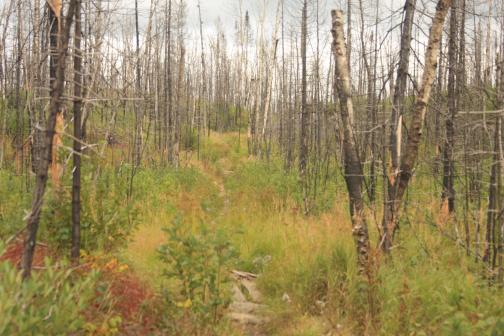 Another great feature is that lakes often provide as halts for the burns. This means lakes in burned areas usually offer distinct sides, one that is burned, and one that is flourishing with the rich boreal forest. Seeing these gradients can be surreal, as this picture from Crooked Lake shows.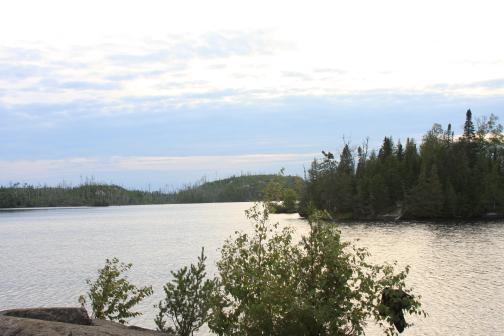 And, let's not forget the sunsets over these areas.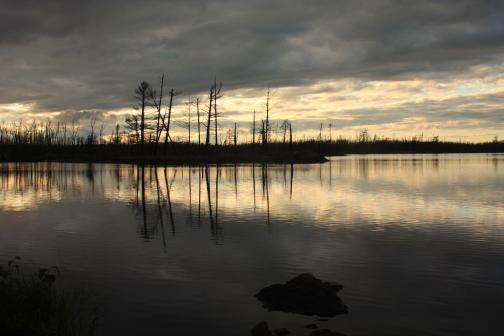 A beautiful sunset sky begins over Kawasachong Lake
Seriously, they are gorgeous.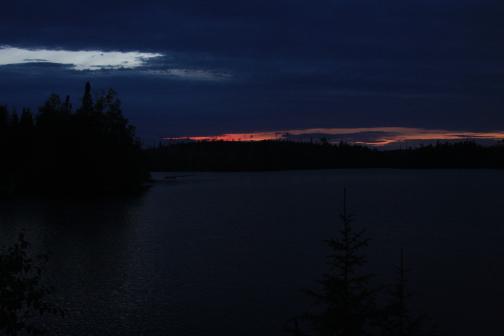 A red sunset, reminiscent of the fire that shaped this scene over Crooked Lake
A big thanks to Carla for sharing her experience with us. Come check out some of the burned areas in the BWCAW the next time you come to Sawbill. Ask the crew about some of our favorite spots, we have a whole list of them.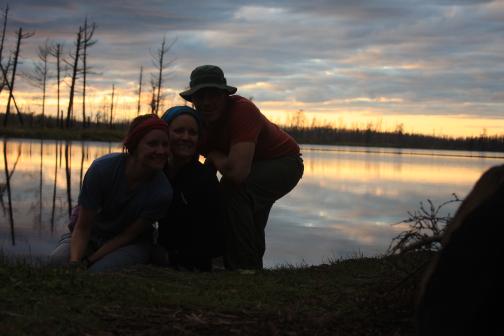 Carla and her crew, Catie and Eric, on Kawasachong.
Happy paddling folks! – Mark