6/23/15 – Spirits are high here at Sawbill, with both crew members and customers enjoying the sunshine we've had in the last few days. Clear nights make for incredible star-gazing, and last night (Monday), the Northern Lights were visible starting around 10:30 p.m. Crew members made the trek down to the dock on Sawbill Lake to watch the sky shimmer and dance. The lights are most commonly seen during late fall and winter, so we hope you all caught a glimpse of them!
There have been a good number of moose sightings lately, both far away and close to home. Recent crew sightings include Octopus Lake, Jack Lake, and Sitka Lake. In general, smaller and more remote locations are better for wildlife sightings. There are also lots of Mergansers out on the water with little ones in tow.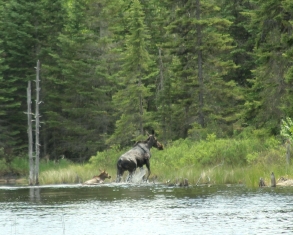 A mama and baby moose make an exit from Sitka lake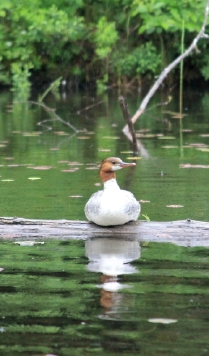 The Merganser has a serrated edge along their beak, giving them the nickname "sawbill"
In addition to looking for wildlife and northern lights, although both are most often spotted when you are not looking for them, we encourage you to soak in as many Boundary Water sunsets as your trip allows. At night when the lake gets glassy and still, you can see the shoreline and sky reflected in an almost perfect mirror image. A perfect end to a summer day.


Even spiders enjoy the sunsets here! – Elena