7/10/21 – Yesterday the Forest Service announced a fire ban on the Superior National Forest, including the BWCAW. Here is the official notification:
So what does that mean for anyone headed our way? Well, if you are planning a trip into the BWCA Wilderness, you will not be able to have a campfire while out on your trip. You'll need to bring a liquid fuel burning stove, with enough fuel to get you by. If you are staying here at the Sawbill Campground (or Crescent or Temperance campgrounds), you are allowed to have a campfire in the firegrate. Please exercise extreme caution when doing so! We check all the firegrates everyday, but we need your help to keep us safe during these dry conditions. If you are planning to camp on the Superior National Forest in one of the unmanaged sites (think Baker or Kawishiwi) you will not be allowed to have a campfire or use a charcoal grill.
There are currently four active wildfires in the BWCA. All of them have been started by lightening, and are being actively managed by the Forest Service and their partners. While none of the fires are very close to Sawbill, the Delta fire has grown to an estimated 65 acres and prompted a closure of some areas within the BWCA. Below is a map of the closed area.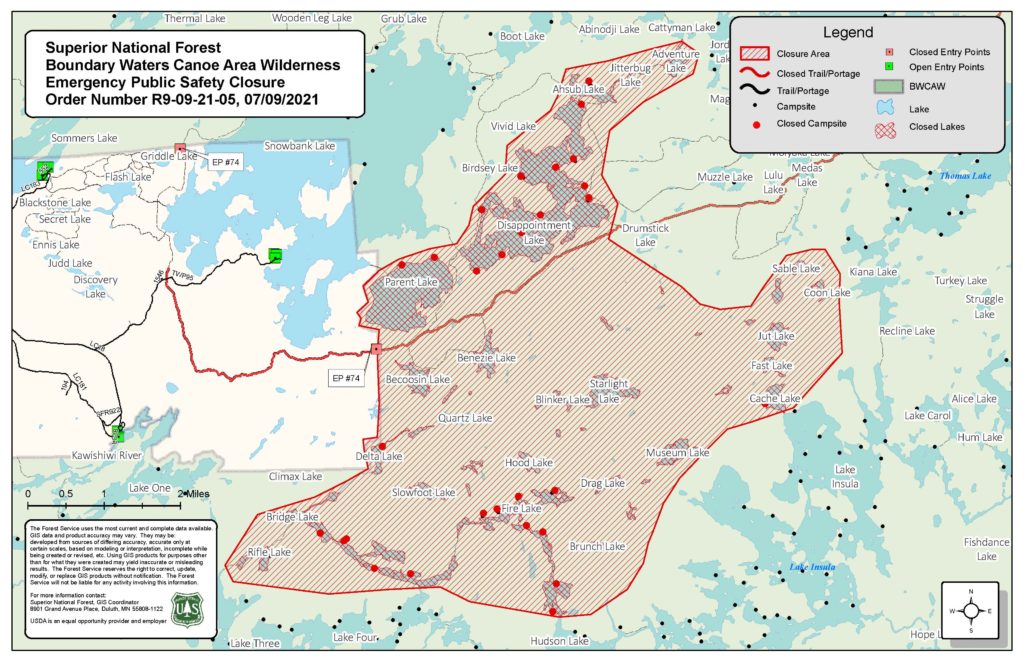 We aren't anticipating any impact of these fires on the Sawbill area at this time, but that doesn't mean that we aren't preparing. We have a robust sprinkler system that has been recently tested and is ready to go at a moment's notice. We (Dan and Clare) stayed up late last night brushing up on our evacuation plans so that we can be quick and efficient if the need arises. We live with the philosophy that it's not if, but when, a wildfire will come through our area.
We'll post updates on any fire ban information or fire activity in our area here as well as on Facebook and Instagram. Another good resource for fire information is Inciweb.
As always, if you have any questions don't hesitate to give us a call.
-Clare