9/1/21 – We've just received the exciting news that the full closure of the BWCA Wilderness area is being lifted, effective September 4th. There is a new closure area, however, in the vicinity of the Whelp and John Ek fires. I will include the full press release from the Forest Service below, but here's what it means for the Sawbill area.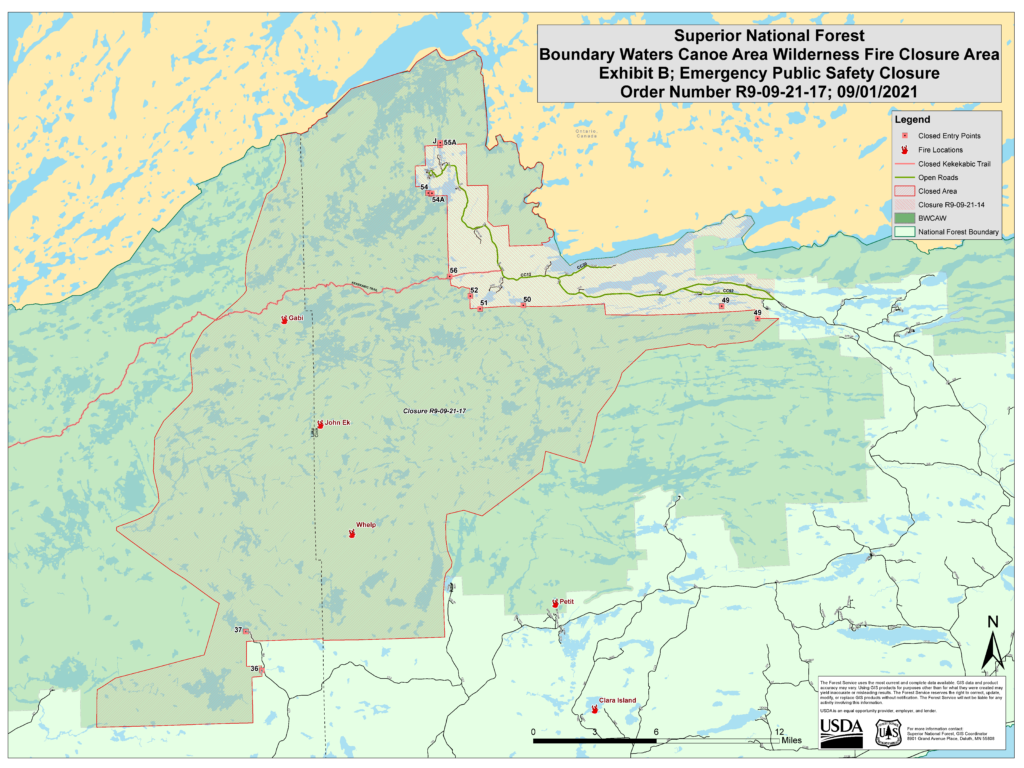 The new closure area, as seen above, will affect some of the Sawbill area. Two entry points near us, Kawishiwi Lake and Hog Creek, will remain closed until further notice. If you have a permit for one of those entry points, it will be automatically cancelled by the Forest Service. If you have a permit for Sawbill, Baker, Homer, or Brule (the other commonly used entry points in our area) starting on September 4th or thereafter – your permit is valid and you may go on your overnight BWCA trip. If you have not yet reserved a permit, available quota permits for those entry points will become available on September 2nd at Noon on recreation.gov.
Importantly, if you enter at any of the open entry points, you still may not travel into the closed area. This area includes the popular Cherokee Lake and other spots due north and west of Sawbill. Call us to talk through the available routing options.
The Sawbill Campground remains open and very quiet. Occupancy has been much lower than average for this time of year. Day trips will be open again starting on September 4th, so if you are worried about finding a backcountry BWCA campsite, staying in the Sawbill campground and day-tripping into the Wilderness is a great middle-ground option. You can reserve a site at Sawbill (at least four days in advance) on recreation.gov. Half of our 50-site campground is always first come, first serve.
The Whelp fire is holding steady at around 50 acres and hasn't grown appreciably in the last week thanks to the hard work of fire fighters on the ground and more favorable weather conditions. We are not currently under any imminent threat of evacuation, and the air quality has been very clear for the last week. There is still a strict fire ban for the entire area, so please plan appropriately.
We are open! Sawbill is so fortunate to have such a dedicated and consistent crew that has stuck with us through this very uncertain time. We are privileged to have had the support of our community and extended Sawbill family, that has allowed us to weather this brief pause in outfitting with relative ease. Please let us know what questions you have. We are so excited to welcome you back to the Wilderness!
Below is the text of the official Forest Service press release regarding today's news:
"The Superior National Forest is reopening some areas of the Forest, including the Boundary Waters Canoe Area Wilderness, given recent rains, cooling temperatures and progress made on active fire. However, certain closures will remain in place where active fires remain on the landscape. 
The Forest is lifting the full closure of the BWCAW, the Crooked Lake closure near the fires in Canada. The Forest is slightly modifying closure maps for the Greenwood Fire, and the John Ek and Whelp Fires. The closure of Forest Service land at the Upper Gunflint Trail remains in place.
"We're thrilled to reopen some of our public lands to visitors. The drought is not over but we're starting to see more rain and lower temperatures. These conditions moderate fire activity and lessen the chance of new fires showing up," said Connie Cummins, supervisor for the Superior National Forest.
"After talking with our fire experts about the latest data and weather conditions, we believe we have the capacity to manage the potential risk to the public of wildfire in some portions of the Forest," Cummins added.
What this announcement means for visitors:
Full BWCAW Closure is being lifted: Portions of the BWCAW will reopen, effective September 4, including the Crooked Lake area near Canada. 

If you had a previously reserved permit for after September 4, your permit is still valid.  
Available quota permits will be live for reservation on Thursday, September 2 at 12:00 PM on Recreation.gov.
 

BWCAW Closure due to John Ek & Whelp fires: A new closure area has been drawn for the John Ek and Whelp Fires: Seagull Lake EP #54/#54A/L, Saganaga Lake EP #55/#55A/J, Missing Link Lake EP #51, Brant Lake EP #52, Cross Bay Lake EP #50, Kekakbic Trail EP #56, Skipper and Portage Lakes EP #49, Kawishiwi Lake EP #37, Hog Creek EP #36. 
Upper Gunflint Trail closure: Forest lands and roads along the upper Gunflint Trail remain closed. However, the Gunflint Trail and private land and resorts are open. Trails End and Iron Lake campgrounds remain closed.  
Greenwood Fire closure: A closure remains in place for the Greenwood Fire, however it has been slightly modified to open the Stony Spur and a portion of prospector Loop Trail, which allows ATV riders to safety ride from Babbitt to Ely, Minn. The following entry points are closed due to Greenwood Fire: Island River EP #34, Isabella Lake EP #35, Bog Lake EP #67, Little Isabella River #75, Snake River EP #84, and Pow Wow Trail EP #86.
Of the 65 fires reported on the Forest in 2021, nearly half, or 29, have been caused by humans. To minimize risk of human-caused fires, fire restrictions remain in place across the entire Forest. Open flames are not allowed, including campfires and charcoal grills. However, visitors may use propane or gas-powered devices with on/off switches.
"Although risk is being mitigated by the change in the seasons, it's not completely eliminated. In the fall, we can get an alignment of low humidity, high winds, and high temperatures and a fire can get up and moving. This has happened in the past. The typical fire season for northern Minnesota extends through September," said Cummins.
The Forest is evaluating other current closure orders with our state partners and will notify the public when we have additional updates. Please visit the forest website for more information or call your local district office."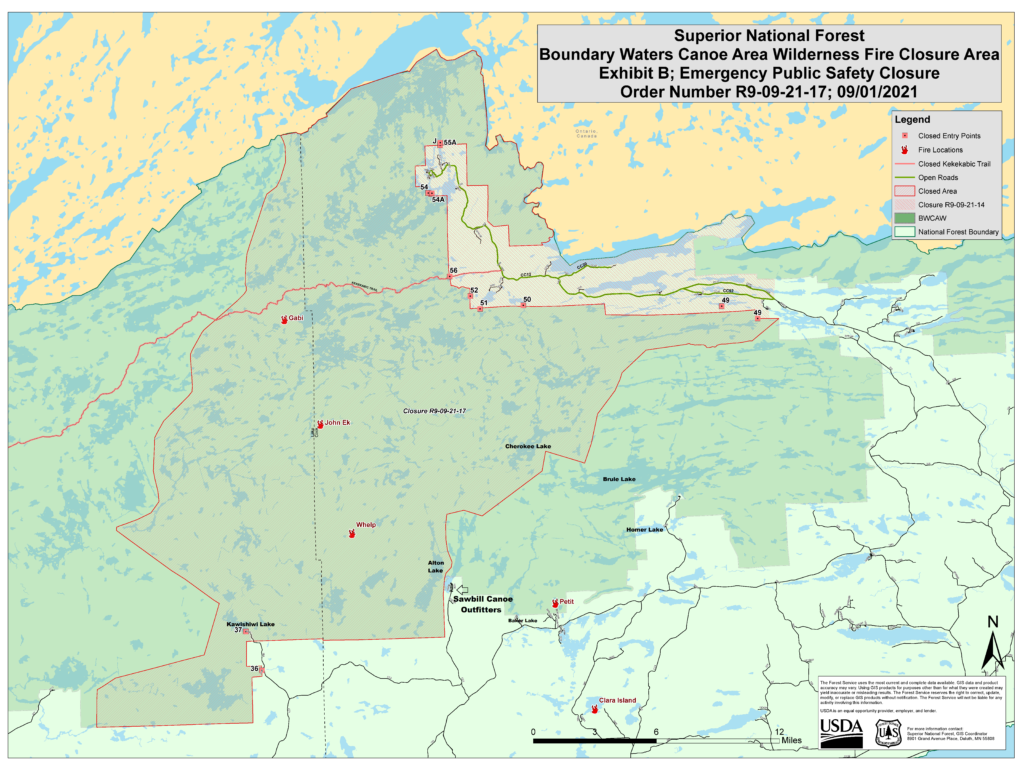 -Clare