7/3/05 – Sawbill crew members Jeff Green, Pat Nash, Dave Freeman and I had an interesting day trip yesterday. We were all intrigued by a Fifties-era Sawbill map and route guide we were given last year by an old Sawbill customer. The map shows a navigable route cutting west from Kelso Lake to Kelso Mountain, descending into Barto Lake, then finally winding through the Barto Creek until the creek meets the Louse River (see map below).


Our first stop was at the peak of Kelso Mountain (more of a knoll, really). The Forest Service built a fire watchtower here during the 1920s. We knew the tower was removed during the early 1970s, but we were surprised when we couldn't even find a space in the trees or a cement foundation. The wilderness has definitely gone a long way toward reclaiming this site.
Even though we couldn't find much evidence of the tower, the wooden outhouse and wood storage shack were still standing–some of the few remaining human-built structures in the BWCAW.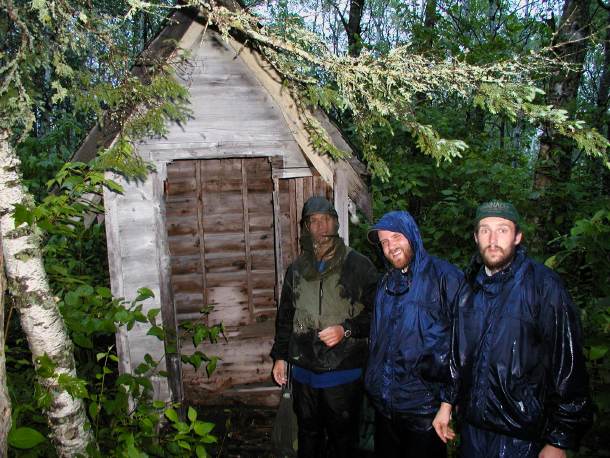 A wooden outhouse is nearly all that remains of the Kelso Mountain fire lookout tower.
From Kelso Mountain, we hiked about a mile through a sparse pine and birch forest to Barto Lake. Barto has a reputation–probably undeserved–as a great Northern Pike lake. We fished for about an hour before declaring a draw.
We had heard that the Forest Service had built two campsites on Barto Lake in 1981 in anticipation of opening up the Barto Creek as a maintained BWCAW route. From what we could tell, the Forest Service built the sites but never went ahead with opening up the route. After a bit of searching, we located one of the two sites near a flat rock landing. Further searching turned up a steel fire grate with a tree growing through it and an old wooden box latrine.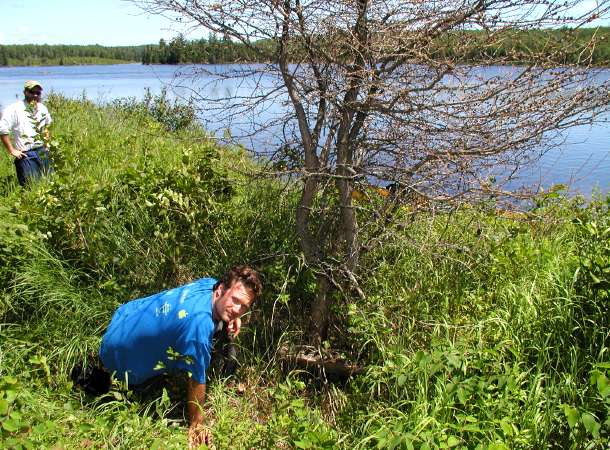 Against all odds, a solitary tamarack tree grows through the fire grate on one of the abandoned campsites on Barto Lake. Dave Freeman observes the phenomenon.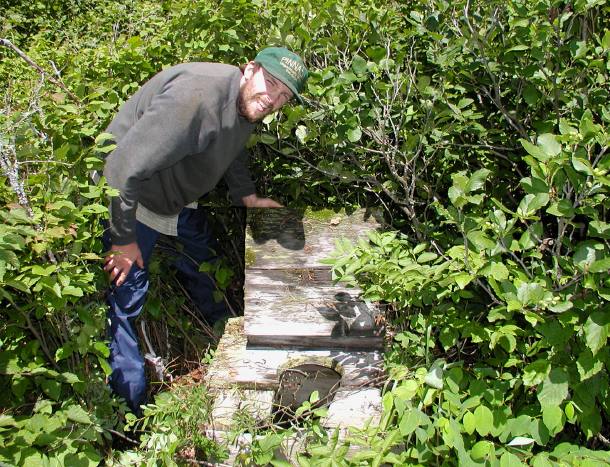 Found it! Jeff Green locates the box latrine, also probably one of the last of its kind remaining in the BWCAW.
On to the Barto Creek, not so much a route anymore as a bushwhack. I'd like to officially report that whatever semblance of a route may have existed in 1958 when the old route guide was published is now completely gone.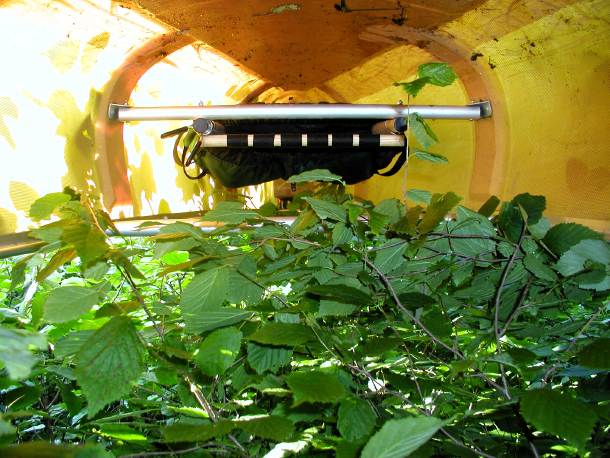 The Barto Creek portages are looking a little brushy.
Most of the creek is still navigable, however; we managed to re-enter the Louse River before dusk and were camped on Wine Lake by 10 p.m.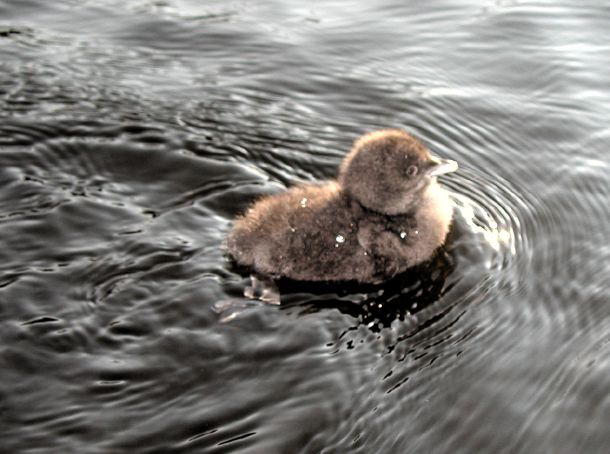 Whopper Lake, just north of Barto Creek, is home to a family of four loons. One of the baby loons fearlessly swam toward our canoe even as we tried to keep our distance.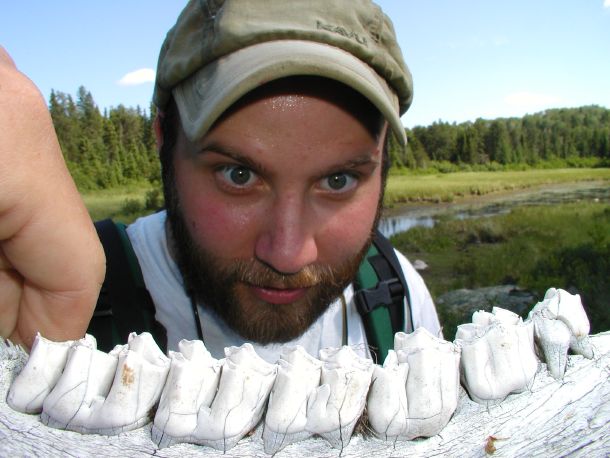 Pat marvels at a bleached moose jaw he discovered along the creek bed.